Nokia Lumia 1020 UK launch on O2 'soon'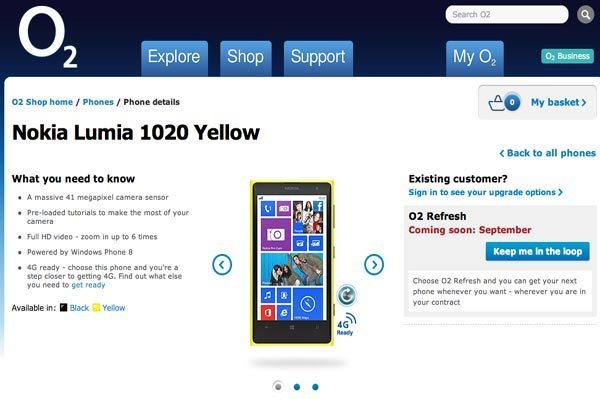 If you love the Nokia Lumia 1020 and desire this smartphone for a multitude of tasks, especially as a camera phone and for concerts, then you will be glad to know that the Lumia 1020 will launch in the UK very soon. This news comes after the phone landed on a coming soon list for O2 in the UK.
For our UK readers — if you have already made up your mind about the Nokia Lumia 1020 and are eagerly waiting a release date in the UK, then you can register your interest on a specially set up O2 page right here.
The page highlights some of the most important features for Nokia's Lumia 1020. These of course include the massive 41MP camera and full HD video that has up to 6 times zoom. Most of our readers will also know that the Lumia 1020 is powered by Windows Phone 8, which will make you love the handset or hate it depending on your preference.
In terms of a release date for the UK Nokia Lumia 1020, it seems that O2 only list the phone as "coming soon in September". It might not be an exact date, but at least our UK readers have a window and of course a way to register interest if you like O2.
It is worth noting that Three will also offer the 41-megapixel Nokia Lumia 1020. You can see a number of hands-on reviews via our earlier article.