Nokia Lumia 1080 WP 8.1 5.5-inch concept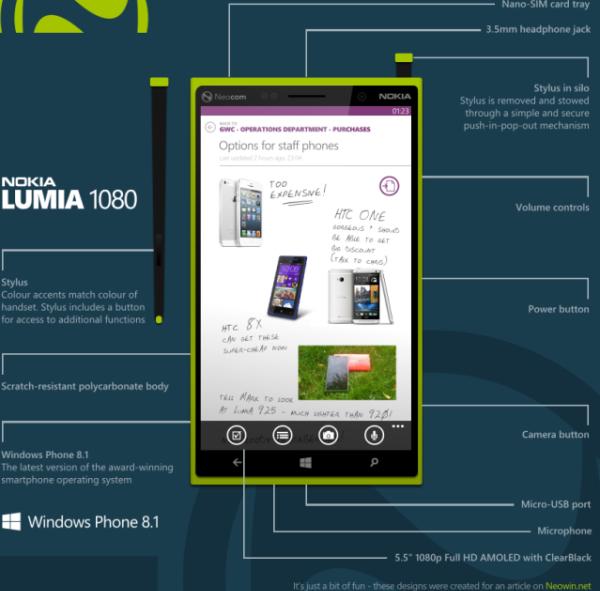 While there have been a number of smartphone users that have given the Windows Phone platform a try, for many the specs that are currently supported by the operating system fall short of expectations. This is set to change in the coming months and today we have the Nokia Lumia 1080 5.5-inch concept that is running WP 8.1.
Microsoft has started to push out the GDR2 Windows Phone update and later this year GDR3 is tipped to bring with it support for quad core processors along with Full HD displays. The concept phone we have for you today is the Nokia Lumia 1080 and how Windows Phone 8.1 may look like.
The specifications for the device include a 5.5-inch Full HD Super AMOLED display protected by Gorilla Glass 3, and there is the quad core Qualcomm Snapdragon 800 processor with 2GB of RAM under the hood. There is either 32GB or 64GB of internal storage on offer that can be expanded by a further 64GB via microSD card.
There is also an Adreno 330 GPU taking care of the graphics along with 16-megapixel rear facing PureView camera paired with dual LED flash, which is capable of Full HD 60fps video recording, and there is a 2.2-megapixel front facer with a 3,200 mAh battery supplying the juice.
You will also a fingerprint scanner and a stylus and the software would allow users to customize the Live Tiles to an even greater extent. The display would allow users to have up to six tiles placed across the start screen, and this can even be broken into sections to make it even easier to find the content and apps.
There is a new Notifications hub where events are logged as soon as they happen that include such things as SMS messages, emails, tweets, and more.
Do you like the look of this concept?
Source: Neowin.