Moto X vs iPhone 5, no dramatic advantage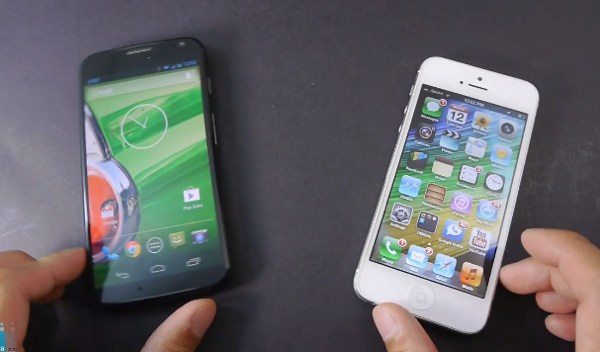 The Motorola Moto X was recently announced and will release very shortly, while the Apple iPhone 5 released last year. However, although these phones run different operating system platforms, there are some similarities such as pricing. Today we want to give you a comparison of specs and also show a video comparison of the Moto X vs. iPhone 5 that concludes there is no dramatic advantage of one over the other.
We'll give you a rundown of the key specs of each before discussing the video of these two handsets. The Moto X is powered by a 1.7GHz Qualcomm Snapdragon Pro dual-core processor, has a 4.7-inch AMOLED display with resolution of 1280 x 720 and 312 ppi, 2GB of RAM and 16 or 32GB of internal storage (non-expandable). It also has a 10-megapixel rear camera with 1080p video capture, a 2-megapixel front-facing shooter, 2200 mAH battery and LTE connectivity, and runs the Android 4.2.2 Jelly Bean operating system.
On the other hand the iPhone 5 has a 1.3GHz Apple A6 dual-core processor, a 4-inch IPS LCD display with resolution of 1136 x 640 and 326 ppi, 1GB of RAM, and 16, 34 or 64GB of internal storage (also non-expandable). It features an 8-megapixel rear camera with 1080p video capture, a 1.2-megapixel front-facing camera, 1440 mAh battery, LTE connectivity, and runs iOS 6, although it will upgrade to iOS 7 when the new OS publicly releases shortly.
Although we cannot list every single specification and feature of these two handsets, you can see from the specs shown here that there's actually not too much difference between them on paper. If you're open to either an Android or iOS smartphone then you may find the video that we've embedded below this story very useful.
The 11-minute YouTube video looks at the Moto X vs. iPhone 5. It begins by comparing the designs of the two handsets and notes that the overall size difference isn't that much considering the much larger display of the Moto X. The video then goes on to consider the display qualities, respective platforms, processors and more, before looking at the camera set-ups and also call quality. Battery life is considered average for both.
Both the Moto X and iPhone 5 are priced from $199 on contract and offer similar performance levels. We don't want to give away the conclusion at the end of the video comparison, but both phones ultimately have a lot to offer. The iPhone 5S is due to release in the coming months though, so you might want to wait a little longer to see what the next iPhone has to offer.
We're interested to hear your views on these two smartphones. Would you rather opt for the new Moto X on Android or the older iPhone 5 using the iOS platform? Maybe you're waiting to see what Apple comes up with for the iPhone 5S?