Samsung Hennessey image shows twin screen flip phone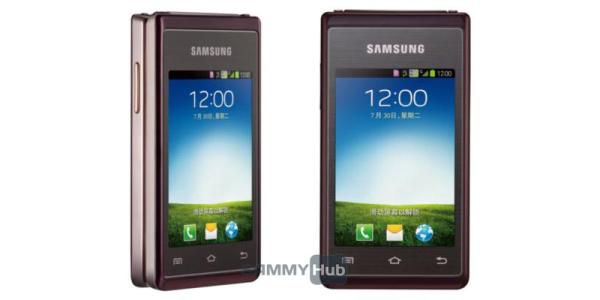 While Full HD displays have now become the norm in many high end smartphones this year looks like being the one where we see the return of the much loved clamshell handset, as some Samsung Hennessey images appear that shows a twin screen flip phone.
Samsung is no stranger to producing clamshell type smartphones and it seems the company has two devices in the pipeline, as last month we heard about a device going under the name of Galaxy Folder.
The image that you can see on this page is of a handset that is supposedly called the Samsung Hennessey with a model number of SCH-W789, which is similar to an instruction manual that appeared recently that was wrongly thought to be for the Galaxy Folder but is obviously for the device that is on this page.
The renders show there are two displays that also falls in line with the leaked manual that appeared on the Samsung website, and both of them have the Samsung TouchWiz Android overlay on them. The displays are 3.27inches in size with both of them having a screen resolution of 480 x 320 and there is also a 5-megapixel rear shooter.
It looks as if Samsung is providing their usual microSD card slot for storing images and other data, and the handset is rumoured to have a quad core 1.2GHz processor that is thought to be the Qualcomm Snapdragon 200 unit. Other specs are rumoured to include 1GB of RAM along with 8GB of internal storage while the handset will come running the Android 4.1 Jelly Bean operating system with CDMA and GSM radios inside.
It is thought that China Telecom will get first dibs on the handset although availability in other regions is not known.
Source: Sammy Hub.