iPad mini 2 vs. Nexus 7 and iPad 5 at Christmas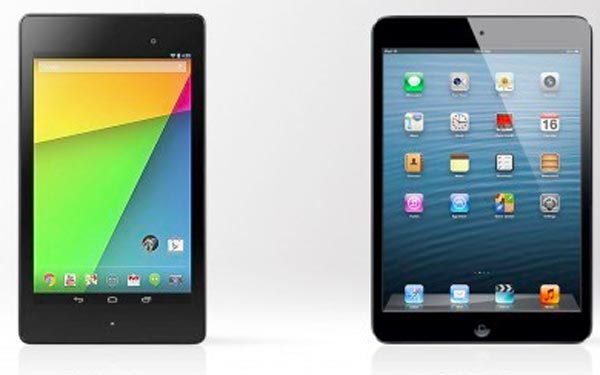 Over the last few years we have seen a regular occurrence this time of year when it comes to purchasing new gadgets, other than smartphones, and that is the desire to wait until Christmas in some cases. A few of our readers are looking at an Apple iPad mini 2 vs. Nexus 7 2, and this is thanks to both these second generation tablets being the most popular among shoppers looking for information.
The Apple iPad sales might be up for debate in terms of popularity verses slipping sales, but you cannot doubt that Apple still has the most popular tablet in terms of units sold each year for a single version.
We have also heard from a few of our readers trying to decide between iPad mini 2 vs. iPad 5, even though both tablets have yet to be confirmed with official specs. Some things are clear and this is the very reason a few people are looking at rumored features and wondering whether to go for a 10-inch iPad 5 vs. an expected 7.9-inch iPad mini 2?
One commenter stated, "I know both of Apple's next-gen tablets will launch shortly before Christmas, so I cannot stop thinking about the version I would want under my tree". They continued, "If the iPad 5 delivers a much lighter and thinner 10-inch tablet it would be very appealing, but then the iPad mini 2 is not that much smaller and would obviously be even lighter to hold".
For some it is an easier choice based on what specs finally arrive at the iPad 5 and iPad mini 2 launch. "If the iPad mini 2 doesn't include a Retina display, then Apple would have helped me choose the 5th generation iPad even though I would prefer an iPad mini with Retina display", stated another Phones Review reader.
What would you like under your Christmas tree this year, an iPad mini 2, Nexus 7 2 or bigger iPad 5? It is fair to say some people might even choose another tablet like a new Nexus 10 model, so hit the comments and share your thoughts and why you would choose such a device.
We have touched on how some people prefer the wider iPad mini compared to a more letterbox type display on Nexus 7 in a previous article, which is more evident when in landscape mode. You can also see the Nexus 7 2 vs. iPad mini in some video reviews, although it should be noted that these obviously include the current smaller iPad thanks to the second awaiting a release in the next few months.