Samsung Galaxy Note 3 design suggested by impersonator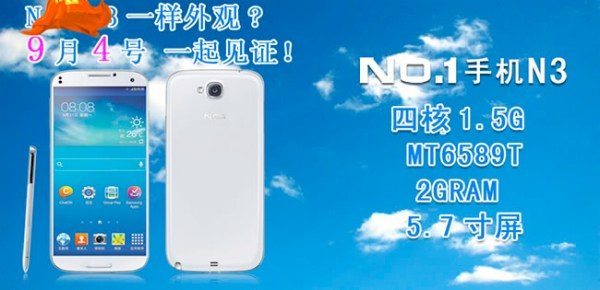 The Samsung Galaxy Note 3 has a lot of people excited right now, with an official reveal expected on September 4. One thing that still has a lot of people wondering regards the design of the phone. The Samsung Galaxy Note 3 design has now been suggested by an impersonator, so this may give us some idea of the appearance.
We've heard so many rumors and leaks by now about this upcoming phablet-style smartphone, and we'll point out straight away that we have no way of knowing whether the fake version we're showing you here is a close replica of the real Galaxy Note 3. However, the fake Galaxy Note 3 is a Chinese knockoff model, and so it does make sense that the manufacturer would want it to look as near as possible to the real deal.
There has been a huge amount of conjecture surrounding the appearance of the Galaxy Note 3, and recently we wondered if a patent design might be accurate. The Chinese knockoff of the Note 3 that we're showing you here may be even more of an indication of what to expect though, as it is an unauthorized copy.
The manufacturer is named as "No. 1" and the knockoff is dubbed the N3, so it doesn't take much imagination to realize that this is intended to be a Note 3 rip-off. To underpin this, the N3 knockoff is due to be available on September 4, the very day on which Samsung is expected to be revealing the Note 3 in Berlin.
This means this knockoff image could have revealed much more than Samsung would have liked about the upcoming Galaxy Note 3. Ultimately, if this is an accurate representation of the real Note 3 then it looks very close in style to the Galaxy S4. Some who were hoping for a more premium-looking device may be slightly disappointed at this, but there are plenty of people who are happy with the plastic build of the current Galaxy line.
Hopefully we'll soon have all of the specs confirmed for this device as well as a release date, but while we are waiting we'd really appreciate your comments on what could possibly be a sneak preview of the Galaxy Note 3 design. Will you be happy if the authentic Note 3 turns up looking like this knockoff? Maybe you were hoping for something a little different in styling?
Source: mtksj (Google Translated) Via: GforGames