Samsung Galaxy S5 with home button display design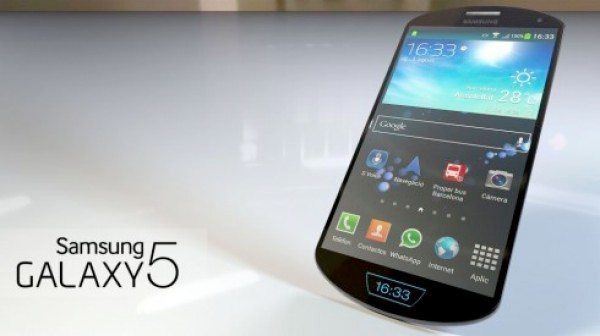 The Samsung Galaxy S4 may only have released a few months ago but our minds are already turning to the Galaxy S5. Today we have a design to show you of the Samsung Galaxy S5 with a home button display that we thought was a little different and may interest some readers.
One of the observations we make most often about the Samsung Galaxy line is the pretty bland design. When the Galaxy S4 appeared there was some disappointment amongst buyers that the design was nothing to get excited about again, although of course plenty of people were happy enough as the phone has been a huge hit.
It would be good to see a bit of a departure from Samsung with the Galaxy S5 though, and that's where the work of concept designers comes in. The concept idea that we're showing you today is the work of Sergio Miguel and comes up with a neat touch. His envisioning of the Galaxy S5 features a Home button that shows the time on a display.
It's not easy to ascertain what this concept Galaxy S5 is built from, but it does look a more premium quality than the existing Galaxy phones. You can see here that it is much more rounded at the top and bottom than the S4 and is also exceptionally slim. The phone shows Samsung's TouchWiz UI with a 3D slant.
You may also be interested in a concept of the Galaxy S6 Mini that we shared at the weekend, and yesterday we also discussed memory and storage for the Galaxy S5. Although it's far too early to come up with specs and features for the S5, we certainly have ideas on what we'd like to see and welcome input from our readers too.
It's important to remember that today's look at the Galaxy S5 is a concept render, but we'd like to know what readers think of this design. Would you like the real Samsung Galaxy S5 to look like this version? What do you feel about the Home button featuring a mini display?
Source: Concept Phones