LG G Pad 8.3 goes official, Q4 release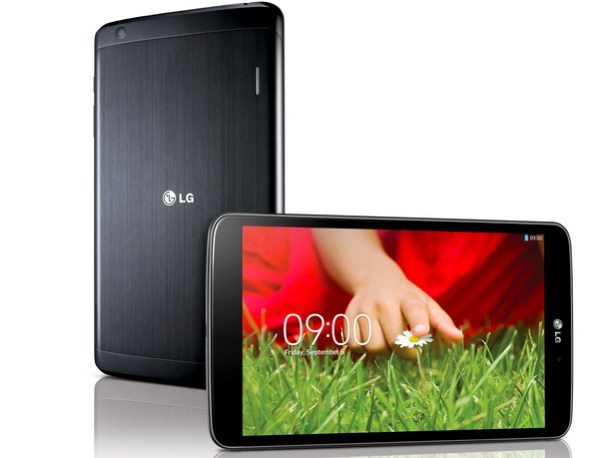 A few days ago we gave some initial information about a new tablet from LG dubbed the LG G Pad. Only days later the LG G Pad 8.3 has now been officially announced and is set for a Q4 release. With the upcoming LG G2 smartphone already attracting huge interest, it looks like LG really means business at the moment.
Previously we only had very scant details on specs for this new LG tablet, but thank to a press release today plenty of the blanks have now been filled in. One key highlight of the LG G Pad 8.3 is that is has an FHD WUXGA display with 1920 x 1200 resolution and 273 ppi, that's not unsurprisingly 8.3-inches in size.
It's powered by a 1.7GHz Qualcomm Snapdragon 600 quad-core processor, has 2GB of RAM, and 16GB of internal storage. The G Pad also carries a 5-megapixel rear camera, 1.3-megapixel front-facer, a 4600 mAh battery, and will run Android 4.2.2 Jelly Bean out of the box.
The LG G Pad 8.3 comes in black or white color options and weighs in at 338g. Dimensions are 216.8mm x 126.5mm x 8.3mm and design-wise it looks like a larger version of the LG G2 phone. Features include the QPair app, QSlide, Slide Aside, and a KnockON feature that enables the user to turn the device on and off simply by tapping the display.
The price of the LG G Pad 8.3 hasn't yet been confirmed but we do know it's coming in Q4 and will launch in North America, Asia, Europe and elsewhere. It will make a formal debut at IFA Berlin this coming week.
Do you like the look of the LG G Pad 8.3? Maybe you're already considering the LG G2 smartphone and like the idea of having a companion tablet? Let us know what you think by sending us your comments.