Sony Xperia Z1 in UK with free QX10 lens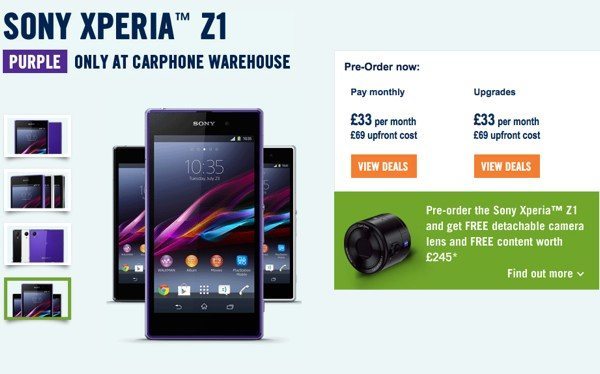 The Sony Xperia Z1 that was previously dubbed the Honami, was recently made official. This camera-centric smartphone is certain to attract plenty of buyers worldwide as it combines high-end specs with a stylish design. If you're in the UK we have news of a great Sony Xperia Z1 offer.
Recently Sony opened pre-orders for the device in the UK and Europe and the UK price is listed at £599. However, if you pre-order the Xperia Z1 through Carphone Warehouse there's a great deal available.
This British retailer is selling the Sony Xperia Z1 with the added bonus of a free Sony QX10 camera lens, which on its own is worth £180. We recently gave confirmed details of the new QX10 and QX100 lens cameras, which will transform the usual smartphone camera offerings, and will make a great addition to the Xperia Z1.
The Sony Xperia Z1 and QX10 Carphone Warehouse package is available across all of the major carriers in the UK, with many different plans offered, and it's not only for new customers on a pay monthly plan but also upgraders.
One of the plans offers the Z1 and QX10 together on Vodafone for a down payment of £69 followed by payments of £33 monthly. Not only will buyers at Carphone Warehouse receive the free QX10, they will also receive £65 worth of content including movies, a movie access pass, as well as free music streaming for two months.
The promotion begins on September 16th and ends on December 31st, and if you want to find out more including all the small print head to Carphone Warehouse here.
Will you be taking advantage of this very decent offer for the Sony Xperia Z1 with free QX10 detachable camera lens? We always appreciate your comments so do send them to us.