HTC One Max fingerprint scanner spotted again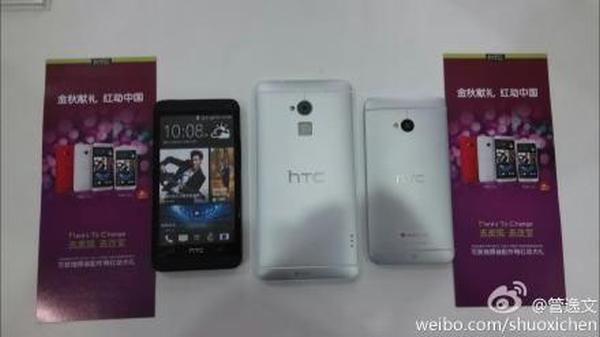 HTC started the year by releasing the hugely popular HTC One which has since spawned a mini version, but there has been a lot of anticipation for the release of the much rumoured HTC One Max which has been spotted again wearing what looks like a fingerprint scanner.
The image that you can see on this page is allegedly showing a working HTC One Max sitting next to the HTC One, but as we have seen before images can prove to be bogus. These latest images though do fit in with previous sightings that also include a fingerprint scanner fitted to the device.
These images have been put up on Chinese website Weibo and include one that shows the device seemingly working, but the image that shows the back of the device has a square cut out below the camera that could be the fingerprint scanner.
Rumours about the unannounced handset suggest we will see a device with a 5.9-inch Full HD display that is powered by the quad core Qualcomm Snapdragon 800 processor running at a 2.3GHz clock speed and paired with 2GB of RAM.
Speculation also hints that the device will have the same 4MP UltraPixel rear facing camera that is found on the smaller HTC One, and there will be 32GB of on board storage while being powered by a 3,000 mAh battery pack.
There have also been claims that the HTC One Max will launch with Android 4.3 Jelly Bean coupled with a new HTC Sense 5.5 overlay, but until we hear anything official we will have to take any leaks or images with the usual pinch of salt.
Will you wait for the HTC One Max?
Source: Mobileaks via Google Translate.