LG G2 vs Sony Xperia Z1, no clear winner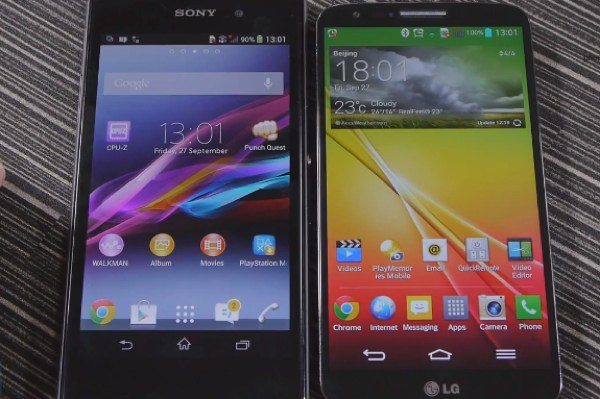 The LG G2 and Sony Xperia Z1 are both notable recent additions to the smartphone world. Both are Android devices and have a huge amount to offer to those looking for a new handset. Today we have a video comparison of the LG G2 vs. Sony Xperia Z1 to share with readers.
We've previously shown an initial look at the Xperia Z1 vs. LG G2, but this only gave an early assessment of the two devices as the Xperia Z1 had only just been officially introduced at that time. However, this latest YouTube video is a full comparison of the two handsets.
The LG G2 and camera-centric Sony Xperia Z1 both have impressive specs and are undoubtedly two of the best phones so far this year. If you watch the 15-minute video you will get a really good idea of the two devices.
The video begins with showing the designs of the two phones and here the Xperia Z1 seems to have the edge, although this is very much a personal choice. Another aspect in favor of the Xperia Z1 is that it's dust proof and water-resistant. However, it's pointed out that the LG G2 has the advantage of being lighter and more compact, despite the fact that it has a larger display.
The video goes on to details aspects such as the displays, operating systems and user interfaces, processors, a good look at the camera capabilities of each, call quality and much more. We won't spoil the ultimate conclusion, but we can say that it's pretty difficult to choose between them as they both have such a lot to offer.
We always appreciate your comments, so if you were to choose between one of these Android smartphones, would it be the LG G2 or Sony Xperia Z1? What is the main factor in your decision?