Samsung Developer Day London, registrations open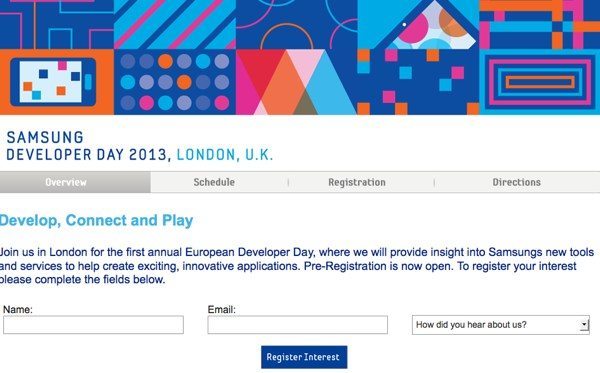 There's some good news for developers in the UK today that want to attend one of Samsung's developer conferences. Samsung's European Developer Day will take place in London and registrations to attend are open now.
The event takes place in London on November 18th, and offers developers some insight into new tools and services. Samsung hopes that these will help developers come up with some inventive and advanced apps for its devices.
There will be several areas of focus, one of which will be APIs for the upcoming Tizen OS (due to be unveiled at an October developer day in San Francisco) Another aspect will be Samsung SDKs for mobile, SmartTVs, and in-app purchases. The developer day will also take in services such as Samsung Hub and Wallet and possibilities of working with Samsung.
The European Developer Day takes place at the London Film Museum on November 18 between the times of 8:30 and 20:30. There are limited seats for the developer day in London, so if you're interested in attending you'll want to pre-register as soon as possible.
You can register here, simply by entering your name and email details. If you're one of the lucky ones who get to attend, there's even better news, as entry is free.
Will you be applying to attend the Samsung European Developer Day in London? What do you hope to get out of the experience? Why not send your comments on this.