Samsung Galaxy Note 3 benchmark manipulation claims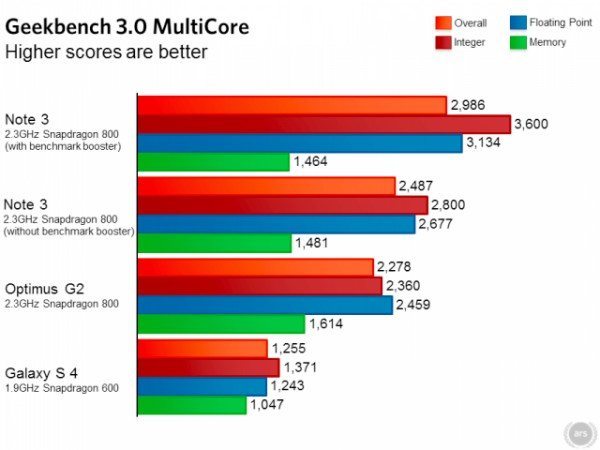 The Samsung Galaxy Note 3 is flying off the shelves as it begins to arrive in regions worldwide. This is a notable smartphone that has received widespread praise. However, there are now claims that Samsung has used a method of benchmark manipulation for the Galaxy Note 3 to come up with improved results.
Benchmark testing for the Galaxy Note 3 so far has shown some very impressive results and has even shown it to perform much better than other smartphones powered by exactly the same chip. Maybe that should have been a sign that something was amiss, as now it looks as though the results could have been skewed.
There were previous claims a while back that the Galaxy S4 had been overclocked to 'adjust' benchmark results in its favor. This time it seems that Samsung may have come up with a different way of manipulating benchmark scores for the Note 3.
It appears that popular benchmark apps such as Geekbench will bring a "benchmark booster" into play when used on the Galaxy Note 3. This appears to prevent idling in the Snapdragon 800's multiple cores. This seems to have been proven by the fact that when running Geekbench there is no amount of idle allowed with the processor cores.
However, Ars Technica renamed the Geekbench app to Stealthbench, which wasn't recognized by the booster. This meant that the cores were allowed to idle and resulted in lower benchmark scores, as you can see in the image below.
The booster is invoked by a DVFSHelper.java package that recognizes some benchmarking apps, and using this method multi-core benchmarks with Geekbench can be around 20% higher. Arst Technica also made a "stealth version of Linpack, which showed that its results could be increased by up to a massive 50% when a benchmark booster was invoked.
It seems a shame that this type of performance boosting appears to have been used for the Galaxy Note 3, as the image also shows that even without the benchmark booster the scores were still higher than the LG G2, which uses the same chip.
It has often been said that people shouldn't put too much store in benchmark results because real-world use is more relevant. This latest news seems to reinforce that further, although it will be interesting to hear if Samsung responds to these claims of "artificial" benchmark results for the Galaxy Note 3. We're really interested to hear your thoughts on this.
Are you surprised that Samsung appears to have been using a benchmark booster for the Galaxy Note 3? Do you feel this is an underhand tactic on Samsung's part, or perhaps you think this kind of manipulation is only to be expected by the major players these days? Send us your comments about this.