Samsung Galaxy Note 3 with $0 upfront deal on T-Mobile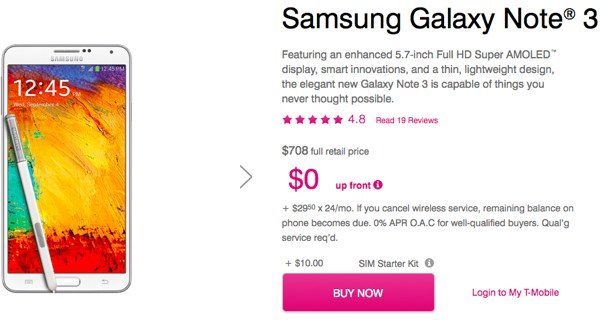 The Samsung Galaxy Note 3 is in popular demand as it releases in regions worldwide. If you're in the US and about to purchase this smartphone you may be interested in a deal where the Galaxy Note 3 is presently $0 upfront on T-Mobile.
The Galaxy Note 3 is an impressive phablet device and previously we gave readers some details about its T-Mobile launch. At that time the pre-order price on T-Mobile's Simple Choice Plan was a payment of $199.99 down followed by 24 monthly payments of $21.
This was already the cheapest upfront deal for the Galaxy Note 3 on a major US carrier, and now T-Mobile has gone one better. For a limited time T-Mobile is now offering the Galaxy Note 3 with no upfront payment, followed by 24 monthly payments of $29.50.
Yes, this does mean paying a higher monthly payment but this will still be an attractive deal for those who want the Note 3 but can't manage a large payment upfront. We're not sure exactly how long this deal will be available, but it appears to be part of a T-Mobile October smartphone sale.
You can find details of this deal for the Galaxy Note 3 in white at T-Mobile here. However, although T-Mobile also lists the black version of the phone, if you try to order it only the white option shows as available. The full retail price of the phone on T-Mobile is $708.
Will you be taking advantage of this current no upfront payment offer from T-Mobile for the Samsung Galaxy Note 3? Let us know with your comments.