Android market decline in USA, iOS rising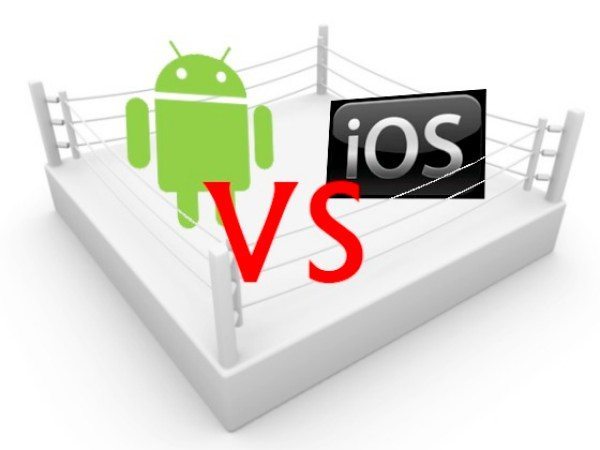 Android vs. iOS is a debate that rumbles on and on among tech enthusiasts, with many who are very passionate about their choice of platform and device. It's always interesting then to see the latest figures about the Android and iOS share of the market. The latest figures show that there has been a slight Android decline in the USA, while iOS is rising.
The latest comScore report showing trends in the US smartphone market indicates that Google's Android is still the most dominant mobile OS platform with Apple's iOS in second place. The report looked at the top smartphone platforms for US smartphone subscribers aged 13+ over the three months ending in August, compared to May.
The Android platform topped the chart with 51.6% of the market in August compared to 52.4% in May, with Apple second on 40.7% compared to 39.2% in May. In third position in August, but a long way behind, was BlackBerry on 4.0%, then Microsoft on 3.2%, and finally Symbian on 0.3%
Considering the fact that Android was quite a way ahead of Apple's iOS in May, we wouldn't have expected their overall positions to change by August. However the interesting thing here is that Android's share has fallen by -0.8% while the share for iOS has increased over that same time by +1.5%.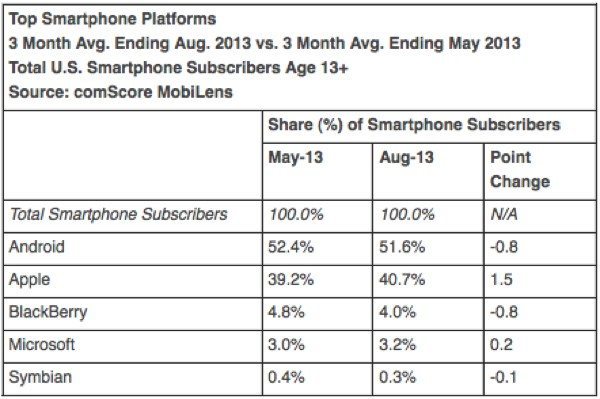 We should also take into account that iOS managed to increase its share, in the time before the release of the iPhone 5S and 5C in September. This is good sign for Apple, as by the time of the next report it seems likely that it's share will have grown again. However, we should also remember that many notable Android smartphones are now being released in time for the holiday season.
Also, despite the massive efforts made to turn around BlackBerry's ailing fortunes, its platform share went down 0.8% from 4.8% in May to 4.0% in August. The report also looked at the US share of specific smartphone manufacturers and found that Apple was in front, with a 40.7% share of smartphone subscribers in August, up 1.5% from May when it's share was 39.2%.
Great rival Samsung was on 24.3% in August, a rise of 1.3% since May when its share was 23%, while HTC, Motorola and LG were third, fourth and fifth respectively, all some distance behind. It would be interesting to hear what readers think of these latest figures so do let us have your comments.
Are you surprised that the Android share of the US market shows a small drop while the iOS share has grown? Maybe you feel this is an insignificant fluctuation?
Source: comScore