iPhone 5S US availability is a mixed picture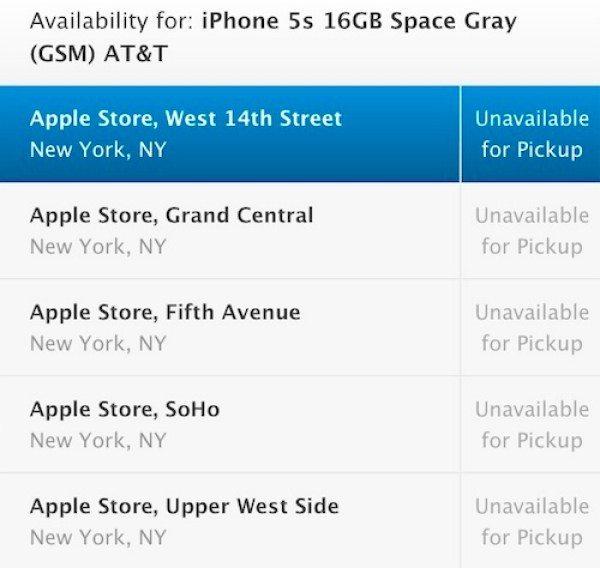 Since the Apple iPhone 5S released to a waiting world last month it has been pretty difficult to pick one up from an Apple Store, especially if you want the gold or the silver model. Shipping times for orders have also been lengthy and now it seems that iPhone 5S US availability is a mixed picture.
If you wanted to pick up an iPhone 5S from an Apple retail store, the gray model had been a little easier to obtain than the silver or gold iPhone 5S. However, even that model is now more difficult to find than previously.
Gene Munster is a well-known analyst from Piper Jaffray who often comments on Apple news, and he has now noted that Apple Store availability of the iPhone 5S has declined more over the last two weeks.The Apple in-store system for pickup availability was used to verify this and Munster states that two week ago the iPhone 5S accounted for 27% of total SKU's in the UK. After checking 60 Apple stores this figure was noted to have fallen to just 6% in the last week.
Also, two weeks ago 90% of Apple Stores still had at least one iPhone 5S unit in stock. However, in the last week this has dropped significantly to 40%, which is a promising indication of iPhone 5S popularity.
It's not known yet if these growing shortages might also be because Apple is holding back some stock in readiness for further international launches that will occur this month. That seems a strong possibility though.
Another indicator of strong demand for the iPhone 5S comes in the form of resale prices. Munster has analysed prices of the iPhone 5S on Chinese site Taobao as well as eBay and found that the iPhone 5S resale price is around 32% more than US retail pricing. Meanwhile the iPhone 5C and Samsung Galaxy S4 have resale prices or around 12% less than retail prices.
Although Apple in-store availability of the iPhone 5S has dropped, there has been some improvement on shipping times for orders. New shipping time estimates of two to three weeks are now showing on Apple's website for all models, colors and carriers in the US, Canada and Asia Pacific.
Those who place an order in Europe are still being shown a vague "October" shipping estimate. Interestingly, this strong demand for the iPhone 5S is not reflected for the cheaper iPhone 5C, which is readily available in retail stores or via online ordering.
Do you think the lack of easy availability for the iPhone 5S in the US is more likely to be because of strong demand or Apple deliberately keeping stocks restrained in preparation for further launches worldwide? Maybe you find it frustrating that Apple hasn't come up with enough inventory of the flagship iPhone 5S? Let us know with your comments.