HTC One blue color option now in UK, mini soon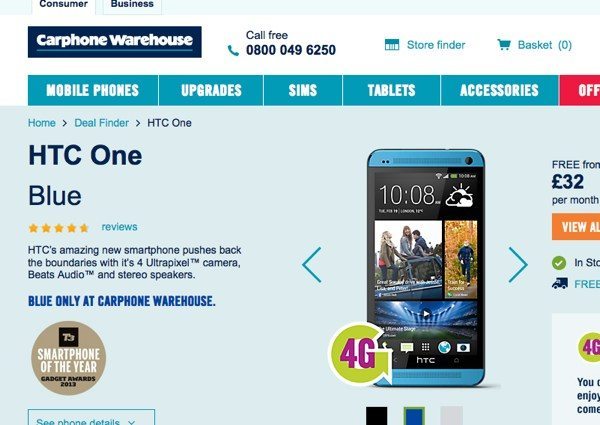 The first murmurs of a blue version of the HTC One emerged a couple of months ago. This was followed by HTC officially announcing the HTC One and also the HTC One mini in blue, and many consumers in the UK may have been waiting for either of these to arrive. The good news for those people today is that the HTC One blue option is now available in the UK.
The HTC One launched in silver or black color options, followed by a red variety (dependent on carrier and region). The Vivid Blue option was then announced by HTC at the beginning of September but at that time the company only said the blue option would be arriving at some point in Q4.
The blue HTC One then became available in the US some weeks ago, and now those in the UK can also lay their hands on one. At the moment Carphone Warehouse has exclusive availability of the HTC One in blue and the HTC One mini in blue will also be available by the end of the month.
The HTC One in blue is now available from £32 on the usual contract on either EE, Vodafone, Orange, O2, Three, T-Mobile or Talkmobile at Carphone Warehouse. As you would expect, this is the same price as for the other colors of the HTC One. If you don't want to be tied to a contract the full price is £489.95.
If your choice is the HTC One mini in blue, you can now pre-order this from the Carphone Warehouse with a contract price from £17 per month. An expected delivery date is given as October 28.
If you want to order the HTC One in blue you can do so at Carphone Warehouse here, or to pre-order the HTC One mini in blue head here. You may also be interested in an earlier article today about the HTC One winning Best Phone at the Mobile Choice Awards 2013.
Are you intending to buy either of these phones in the blue color option? Will you be choosing the HTC One or HTC One mini in blue? We always appreciate comments from our readers.