Samsung Galaxy S4 vs iPhone 5C, specs vs price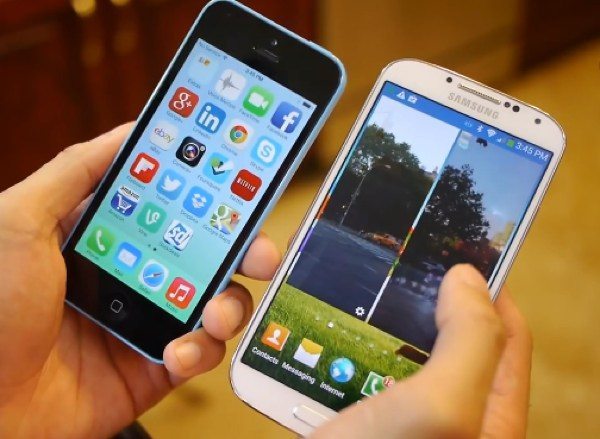 The Samsung Galaxy S4 Android smartphone is still flying off shelves worldwide several months after it first released. On the other hand the iPhone 5C recently released and is the less premium of the new iPhones, losing out to the iPhone 5S. Today we're looking at a Samsung Galaxy S4 vs. iPhone 5C video comparison, and it seems it's a case of specs vs. price.
There have been plenty of comparisons discussing the Galaxy S4 and iPhone 5S and this is understandable as they are both high-end flagship devices. A Galaxy S4 vs. iPhone 5C comparison may not be as obvious, as the iPhone 5C could be seen as more of a mid-range phone. However, it is something to consider when one is priced so much lower than the other and still has a lot to offer.
If you're considering purchasing a new smartphone and you have a preference of the Android platform over iOS or vice versa, then this may have already decided your choice between the Galaxy S4 and iPhone 5C. However, if you are still open to either operating system then these are two phones that you may be thinking about.
The 13-minute YouTube video below this story gives a good look at the Galaxy S4 vs. iPhone 5C and shows what they each have to offer. These phones both have plastic builds and the video begins with looking at the designs of both phones before showing a tour of the hardware.
The video goes on to look at user interfaces and features, performance, camera set-ups, battery life and more. The iPhone 5C hasn't been as popular as the iPhone 5S but if saving a bit of money is important to you then this is where the iPhone 5C will prevail and is another factor to take into account with this comparison.
The price of the iPhone 5C starts from $100 on contract while the Galaxy S4 will cost around the $200 mark with a contract. That's a significant saving and so those who want to pay less and enjoy a phone that is simple to use may appreciate the iPhone 5C. Ultimately though, those who want a handset packed full of features and top-notch specs will probably be better opting for the Galaxy S4.
You can check out the video below and see for yourself some of the many aspects you may want to take into account when trying to decide between these two smartphones. If you want to see much more on the Galaxy S4 and iPhone 5C you can do so at these links.
Would you rather save a bit of cash and opt for the iPhone 5C? Perhaps you feel it's well worth spending more to benefit from the plethora of features with the Galaxy S4? Send your comments to let us know.