SwiftKey goes half price in sale but be quick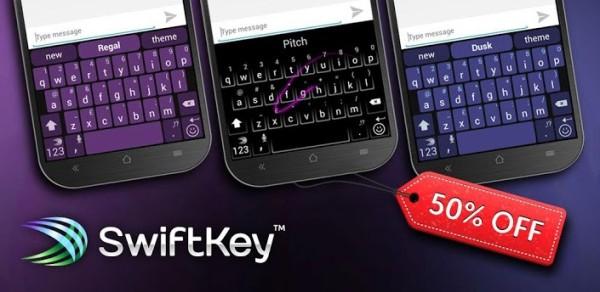 One of the big appeals of the Android platform is the ease that users can change the various stock applications for something else they might prefer to use, and one big sector is keyboard applications with arguably the most popular being SwiftKey that now goes half price in a sale, but you better be quick to snag this deal.
We have reported about a number of keyboard applications before that have included SwiftKey among many others, and today to celebrate five years of the Android platform the developer has put the app on a one day 50% off sale.
If you don't already know of SwiftKey the app has managed to achieve the number 1 best selling app in 58 Google Play countries. The app promises to take the hard work out of typing on a touchscreen Android device.
Like a number of other keyboard apps SwiftKey learns from you as you type so can try and predict what you may type next by offering suggestions above the keyboard, and promises the world's most accurate autocorrect next word prediction in sixty different languages.
It doesn't just learn from your most commonly used words but how a user puts them together, and it can even learn from what you type when using the likes of Facebook, Twitter, Gmail, and more. To download SwiftKey head over to Google Play but remember this sale is for one day only which means you can get it for £1.49/$1.99.
Which keyboard app do you use?