Oppo N1 phone release, ETA end of November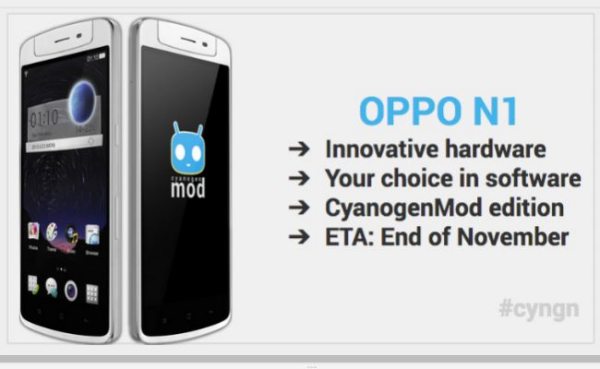 The new Oppo N1 phone November release date is near, this smartphone is all set to launch globally next month.
The exact Oppo N1 release date is not yet known, but this presentation states ETA: End of November.
We have reported about the Oppo N1 a few times now covering Snapdragon 800 CPU and Owl tech, the information above does not come via the official sources but rather from the CyanogenMOD team.
There is no solid evidence what markets will sell the Oppo N1, we would suggest that China, USA and UK will most definitely be on the list, and they will offer it to these countries unlocked.
Oppo might even strike a deal with say AT&T or Verizon for an exclusive deal in the United States. All we know is that it will release next month but not sure when, the Oppo N1 will be the first Android smartphone to ship with the option of installing CyanogenMOD ROM with warranty support and full community.
There will apparently be a limited CyanogenMOD Oppo N1 as well, head on over to the Pioneers program where Oppo is running the try out the N1 for only $99. The only downside to this is that only 10 users will get this handset for this price, have fun.
Does the Oppo N1 spark your interest?