iPad mini in new space gray option now available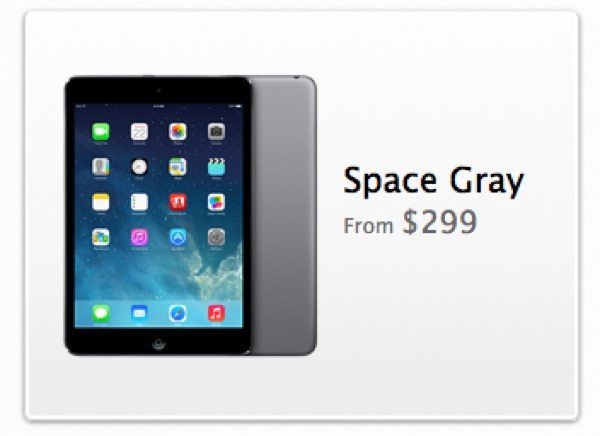 If you're after the iPad mini in the new space gray option that Apple recently announced then you're in luck as it has now become available. This replaces the black and slate color version of the original iPad mini and is now available on in some Apple stores as well as at Apple online.
The space gray iPad mini started to arrive in Apple brick-and-mortar stores yesterday although stocks are said to be limited at the moment, with some stores quickly selling out of the device. The color matches one of the color options of the recently released iPhone 5S and looks set to be extremely popular.
To clarify, the iPad mini in space gray that is now available is not the new iPad mini with Retina display (iPad mini 2), which has just been officially announced and will release at some point in November. Instead this is the first-generation iPad mini in a new color option.
This could be a great choice as the original iPad mini price tag has now been dropped to only $299 for the Wi-Fi version, taking over the entry-level spot. The upcoming iPad mini with Retina display will be priced from $399. The space gray iPad mini comes in two variants, 16GB with Wi-Fi and 16GB with Wi-Fi + Cellular with the latter priced at $429.
If you head to this Apple page you can order the iPad mini in space gray and can also see the silver option listed. Alternatively if you're in the UK head here. Currently both color options for the Wi-Fi only version are listed as in stock. For the Wi-Fi + Cellular model it's in stock for AT&T, Sprint and Verizon with availability on T-Mobile from October 31.
With Christmas coming up the iPad mini at its new lower-price and with a new space gray color option could be a good purchase and is likely to appear on plenty of wish lists. Are you tempted to buy the original iPad mini in the new space gray variant? Let us know with your comments.