Micromax A250 Canvas Turbo on sale now, ships Oct 31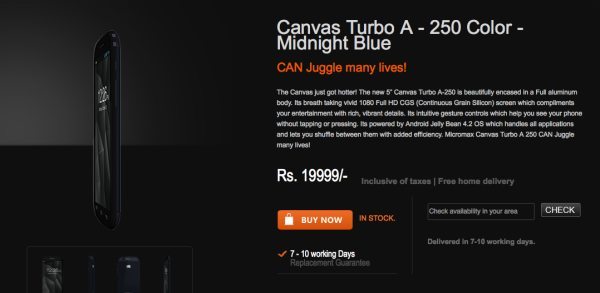 We reported yesterday that the Micromax A250 Canvas Turbo could be purchased from October 26th, we would like to correct that now because it is now available to buy in India today October 25.
The Micromax A250 Canvas Turbo is now on sale for Rs. 19999 over on the official website, this handset comes with the Android 4.2.1 Jelly Bean operating system as well as a 5-inch full HD display with resolution of 1920 x 1080 pixels.
The lovely smartphone also comes featuring 1.5GHx MediaTek processor, 16GB of built in storage, and 2GB of RAM, 13-megapixel camera with an LED flash on the rear and a 5-megapixel camera on the front.
Other specs include Bluetooth 4.0, GPS, and WiFi, there are a few downsides to the Micromax A250 Canvas Turbo, one of them includes the lack of microSD card slot, and even though you get 16GB storage only 12GB of this is really yours.
When you head on over to the official website it does allow you to place an order, but it does say, "Canvas Turbo Shipment dispatches will commence from the 31st of October."
Are you interested in the new Micromax A250 Canvas Turbo phone?