Nokia Lumia 929 for Verizon Thanksgiving release, video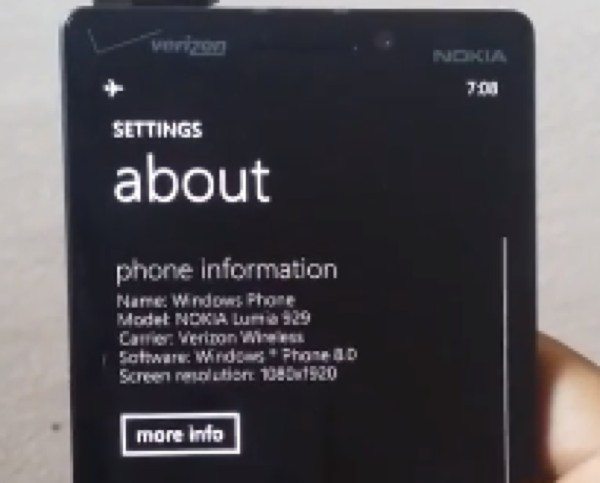 The Nokia Lumia 929 for Verizon is a device that seemed to have been forgotten at the big Nokia event last week. Some people waiting for this Verizon Windows Phone flagship may be forgiven for wondering when it may arrive. Now a leak touts a Nokia Lumia 929 for Verizon Thanksgiving release, and we can also show you a video preview of the phone.
At the beginning of October we informed readers about the upcoming Nokia Lumia 929 and at that point it was rumored the phone would arrive around November 6. It may be a little later than that as the leak gives a release timeframe of around Thanksgiving, but either way there should not be too much longer to wait.
The phone has been described as a more compact version of the Lumia 1520, featuring the same Snapdragon 800 quad-core processor, Full HD display and 20-megapixel camera, so this is likely to be a welcome addition to the Verizon lineup in time for Christmas.
It's suggested that the Lumia 929 will come in 34 and 64GB internal storage models but that the device will not have a microSD slot for storage expansion. The brief YouTube Lumia 929 hands-on preview below gives a quick look at the device complete with Verizon branding, and when we hear more we'll pass on that news to our readers.
Are you waiting for Nokia and Verizon to officially announce the Nokia Lumia 929? Could this phone persuade you to try out a Windows Phone handset for the first time? Send your comments about the Lumia 929.
Source: WPCentralForums (Falorin)