Nokia Asha QWERTY Touch has 210 similarities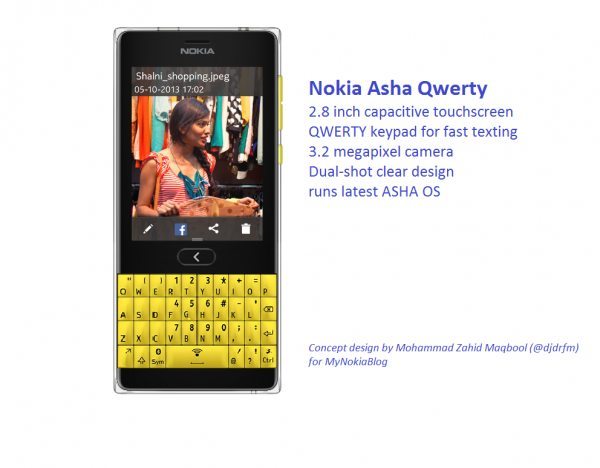 The Nokia Asha is a name that sticks with us all, they are in their own little way vibrant and cool handsets. The latest Asha smartphone we talked about was the Nokia Asha 210, and we have found a concept with similarities.
Say hello to the new Nokia Asha QWERTY smartphone, this one has been designed by Mohammad Zahid Maqbool, it looks great but for us it looks too much like the Nokia Asha 210 with its design and QWERTY keyboard.
The latest Nokia Asha QWERTY Touch handset looks rather nice, it comes with a 2.8-inch touch display, which is slightly larger than the Asha 210.
Other Asha QWERTY specs include dual shot clear case, 3.2-megapixel camera, it does not have 3G or flash for the camera. The Nokia Asha QWERTY phone price would be around 80 to 90 dollars if it were to go on sale.
At $80 to $90 that would put this smartphone in the low-end market, but we believe you get a lot of phone for a very low price.
Would you buy the Nokia Asah QWERTY touch smartphone?
Source — My Nokia Blog