Google Glass accessories now online via store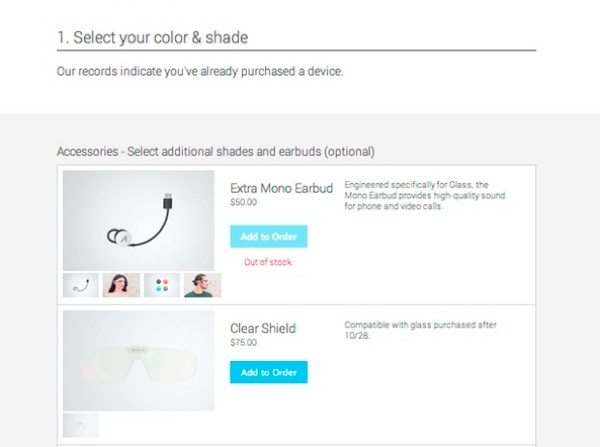 The innovative technology dubbed Google Glass is set to release to the public next year and is currently in the hands of developers. This wearable technology device is a hot subject of interest at the moment and Google Glass accessories are now online via the Glass Store.
It remains to be seen whether Google Glass will achieve real mass popularity or whether it will be very much a niche product. However, other manufacturers seem to feel it will take off as we recently told how Samsung Gear Glass is also in development.
Google is getting ready for mass production of Google Glass and of course as with any new device, accessories are likely to be popular. Some Glass Explorer forum members have recently unearthed the Glass Store featuring such accessories.
Google Glass Explorers can access the store at glass.google.com/getglass although there are reports that some Glass Explorers accounts don't recognize them as being Glass owners. We can give you details of four accessories listed so far, and we have to say they don't come cheap.
First there's an extra mono earbud, which is rather pricy at $50, although the blurb stresses that this is engineered specifically for Glass and provides high-quality sound. Another accessory is a clear shield at a price of $75.
The other accessories found so far are an extra cable and charger at $50 and also an extra pouch for $50. At present only the clear shield is available with the other three items all listed as 'out of stock.'
Are you pleased to see the first accessories becoming available for Google Glass? When the Google Glass release date arrives will you be first in line, or maybe you can't see them catching on? Send your comments to let us know.
Source: Marketing Land