Nexus 5 India price official from Rs. 28,999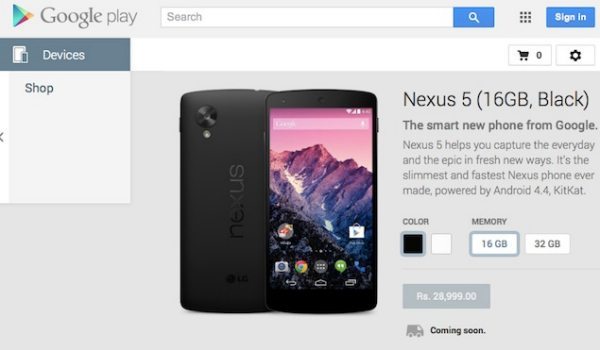 Earlier on today we discussed a little about the Nexus 5 release date likelihood in India, we did judge the release timescale based on the Nexus 4.
When the Nexus 4 was released to the general public India had to wait 6 months, the good news now is that the LG Nexus 5 is now official with alls its specs to be looked at here and India is going to see its N5 smartphone very soon.
The 4.95-inch Google Nexus 5 by LG powered by a 2.26GHz quad-core Qualcomm Snapdragon 800 processor with 2GB of RAM will keep all those in India very happy indeed.
Google Play listed the LG Nexus 5 from Rs. 28,999 for the 16GB and Rs. 32,999 for the 32GB (prices are without contract), the screenshot below comes via NDTV and it does say 'Coming Soon', but it is good news because those in India will not have to wait 6 months hopefully seeing as it is on show online.

If you live in India please do let us know if you will be buying the LG Nexus 5?