Apple vs Samsung in Q3 US smartphones share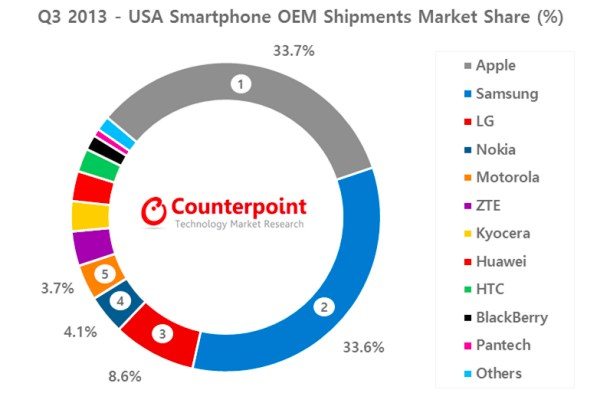 It's always interesting to see the latest figures regarding smartphone market share for the US, and a new report shows that Apple vs Samsung Q3 US smartphone shipments sees Apple slightly ahead. This compares to Q2 figures when Samsung was slightly in front of Apple.
Yesterday we gave readers details of global smartphone operating system marketshare, where the Android platform share had increased further while Apple's iOS share had fallen. The new figures relate just to the US and show manufacturer market share.
Apple is now on top with 33.7% of smartphone OEM shipments market share in Q3, against 33.6% for Samsung, so although Apple scrapes it there's barely any difference between the two. This varies slightly from the same figures for Q2 this year when Samsung was on a marginally higher 33.9% and Apple accounted from 32.2%. Thus Samsung's share has dropped a tad since Q2 while Apple's has risen.
It's interesting to compare Q3 this year to Q3 for 2012 though, when Apple's share was on 33.1% and Samsung was on 26.6%. This shows that although Apple's smartphone shipment share has changed very little from 33.1% to 33.7%, Samsung has seen a stronger growth from 26.6% to 33.6%.

Another riser in US smartphone market share is Nokia, going up from 1.4% in Q2 this year to 4.1% for Q3. Although this is still a small share overall, it does show significant growth, especially considering that Nokia's share for Q3 2012 was a mere 0.7%. This is a clear indicator of the growing popularity of Nokia Lumia handsets in the US.
Meanwhile smartphone marketshare for LG and Motorola dropped in Q3, although LG is still up from the same point last year while Motorola has fallen quite dramatically. In Q3 2012 LG was on a 7.6% share and by Q2 2013 that share had risen to 9.9%. For Q3 this year that had fallen to 8.6%.
Motorola on the other hand had a share of 8.0% in Q2 last year and this had dropped to 3.6% for Q2 this year. The latest Q3 figures now show a marketshare of 3.7%. The 'Others' category accounted for a 16.2% share for Q3 2013.
Apple and Samsung are now very evenly matched then, both with around a third share of US smartphone shipments. Do you think these levels will stay around the same over the next year or so? Maybe you think either Apple or Samsung will pull further ahead of the other? Let us know with your comments.
Source: Counterpoint