Google Search iOS app update 3.1.0, Google Now changes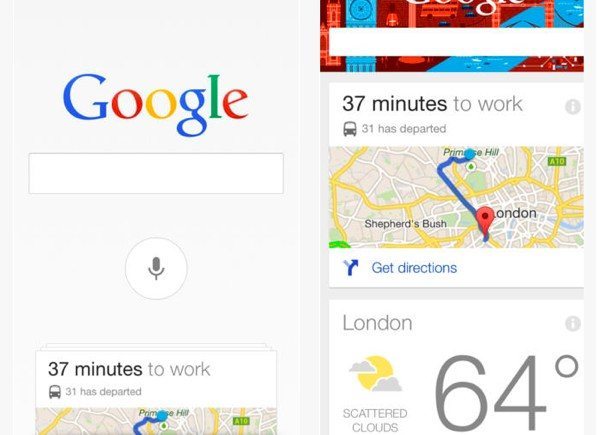 Many device users are big fans of Google Now, and over the last few months new features have been arriving for Android device owners. Today the Google Search iOS app has been updated, bringing lots of Google Now changes and improvements for iDevice users.
This brings the iOS Google Search app to version 3.1.0 and many benefits for Google Now that users will appreciate. Google Now now includes notifications, reminders, new cards, and hands-free voice (the latter for the iPhone 4S or later). This enables users to search merely by saying "OK Google."
Even before you open the app, notifications will deliver info such as telling you if your flight is late or when you should leave for an event or appointment. If you want Google to remember things for you, then simply say "remind me" followed by your request and you'll be reminded at the appropriate time or place.
Another handy reminder function is that users can ask to be reminded about their favorite things, for example when a new album is released by your favorite band, or when there is a new episode of a TV show you enjoy. You can also follow news on celebrities of your choice as Google Now will tell you when they're in the headlines.
There are also new cards to help you organize your information such as tickets for events and concerts, flight boarding passes, upcoming local events and reservation confirmations. As well as this Search is improved with a revamped homepage, one touch sign in, improved voiceover accessibility and gesture uses.
This new update for the Google Search iOS app brings plenty of really useful features to Google Now. If you want to check out more then head iTunes here. This free app is compatible with iPhone, iPod touch and iPad running iOS 6.0 or later.
Are you a user of the Google Search iOS app? What do you think of the improvements and changes for Google Now that come with this update? Let us have your comments.