iPad Air vs Kindle Fire HDX 8.9 vs Nexus 10 display winner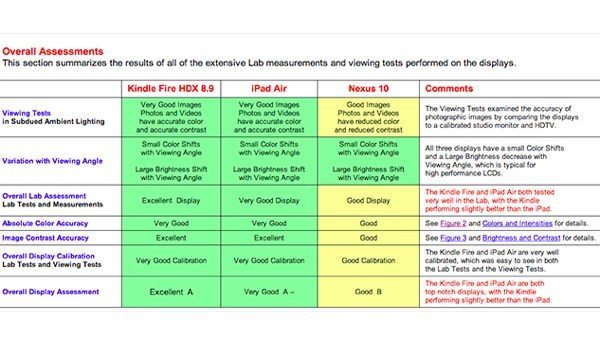 Apple released the iPad Air last week and this tablet is bound to be included on plenty of holiday wish lists. However, display testing has just taken place on the iPad Air vs. Kindle Fire HDX 8.9 vs. Google Nexus 10 tablets, and the winner was not the iPad Air. That may surprise some potential buyers, but maybe not everyone.
The display testing was performed by DisplayMate and covered a number of different laboratory tests. Raymond Soneira conducted the "Flagship Tablet Display Technology Shoot-Out," covering different aspects, some of which were color and intensity, brightness and contrast, and viewing angles.
The Amazon Kindle Fire HDX 8.9 was found to have the best display of these three devices, outperforming the iPad Air over several categories. In fact Soneira found the Kindle Fire HDX 8.9 to be the "best performing Tablet display that we have ever tested," and that's certainly high praise.
The image below shows the results of the Lab measurements and viewing tests. However, it's worth pointing out at this stage that although the Nexus 10 was included because of its very high pixel count, this is last year's device and a new Nexus 10 2 tablet is on the way.
Although the Kindle Fire HDX 8.9 display uses the same Low-Temperature Poly-Silicon (LTPS) LCD technology as the Apple iPhone, it's on a larger scale and has the biggest panel of this kind being currently used in a mobile device. The iPad Air on the other hand features IGZO technology, said to be around 30% less power-efficient than an LTPS panel.
The iPad Air display is still improved over previous iPad display with some changes being enhanced contrast ratings, better brightness levels and decreased reflectance. According to DisplayMate though, the iPad Air display cannot match that of the Kindle Fire HDX 8.9.
An overall display assessment rating was given for all three tablets. This resulted in the Kindle Fire HDX 8.9 being awarded an A (excellent), the iPad Air getting an A- (very good) and the Nexus 10 earning a B (good).
Are you surprised that the display of the iPad Air was beaten by that of the Amazon Kindle Fire HDX 8.9? Are you intending to purchase any of these tablets over the coming weeks? Let us have your comments.
Source: DisplayMate Via: AppleInsider