iPad Air catches fire causing evacuation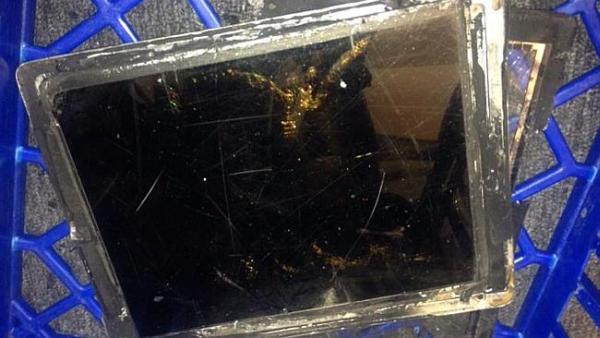 Every now and then new mobile tech that is released can experience some early teething problems that can vary to software problems or something a bit more sinister, and now news reaches us that an iPad Air demo unit catches fire causing an evacuation from a store.
We often get to hear about mobile devices catching fire or melting but this is often the fault of some cheap poor quality third party accessories such as replacement batteries or chargers. Now the image that you can see on this page is what's left of an iPad Air that suddenly burst into flames.
Now before you think someone was using a cheap Chinese charger with the device, this incident happened in an official Vodafone store over in Australia. What is being called as a sudden "burst of flames" emerged from the charging port of the tablet PC according to a spokesperson from the company.
The fire brigade were called as the retail outlet begun to fill with smoke and sparks begun to appear from the charging port. Luckily no one suffered any injuries from the incident and the device in question has since been given back to Apple so the company could test it to find out why it suddenly burst into flames.
So far the iPad Air has sold really well and if this problem was more widespread we would have heard about it by now, but we reported before about some minor issues with the device appearing for some users.
Are you surprised at this happening?
Source: News.com.au.