Samsung Galaxy Note 12.2 evidence with FCC spot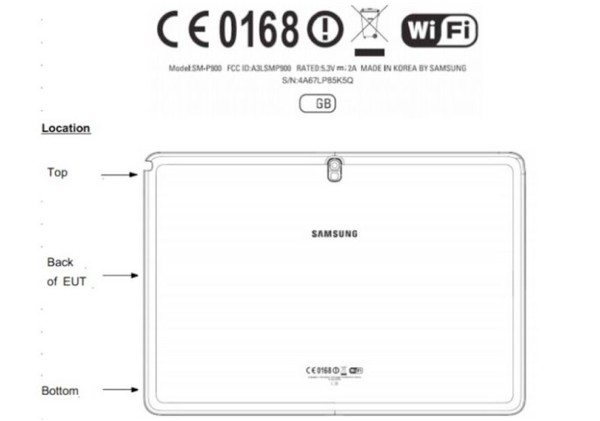 There has been talk of a 12.2-inch Galaxy Note tablet for some time and recently more leaks have emerged about this upcoming device. Now we have further news of the Samsung Galaxy Note 12.2 with an FCC spot as evidence.
Samsung Galaxy tablets in varying sizes have been hugely popular, so it seems a natural progression to make an even larger model. A few days ago we informed readers of overseas reports saying that the Samsung Galaxy Note 12.2 tablet would start being produced late this year ready for a launch next year.
It now seems likely that the Galaxy Note 12.2 release could take place quite early on in 2014, as the non-LTE variant has now appeared at the FCC. This follows shortly after the Galaxy Note 12.2 LTE version also visited the FCC.
The tablet has model number SM-P900 and in the image below there's a clear indication that this is indeed in the Galaxy Note series, as you'll see that a stylus slot appears at the top.
Anticipated specs for the Galaxy Note 12.2 tablet include a Qualcomm Snapdragon 800 or Exynos 5420 processor, a 12.2-inch display with resolution of 2560 x 1600 and 3GB of RAM. It's likely to launch running either Android 4.3 Jelly Bean or Android 4.4 KitKat, though the latter would certainly be more welcomed.
Seeing as the tablet has already cropped up at the FCC it appears a launch may now be very early on next year, although in that case it seems a shame that it wont' arrive in time for the holiday season.
The Galaxy Note 12.2 is likely to be another step forward in Samsung's bid to dominate the tablet market, although no doubt iPad fans will have something to say about that. There have also been rumors recently about the possibility of a larger iPad with a 12.9-inch display, so this would make interesting competition.
Are you interested in another Samsung Galaxy tablet, this time a Galaxy Note 12.2 stepping up to a larger display? Let us know with your comments.
Source: FCC