Nexus 12 design has specs to match screen size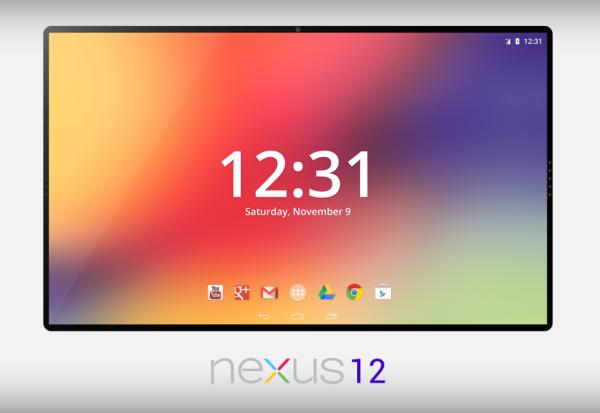 It has been a while now since Google unveiled the new Nexus 7 for this year but the mobile world is still waiting for the larger sized device to be made official that is believed to be also coming from Asus, but today we have a Nexus 12 design that has specs to match the huge screen size.
We have been hearing about a Samsung Galaxy Note 12.2 in recent weeks while today we have a concept design for you of what would be a Nexus 12 Android tablet PC. The concept design is the work of The Techno Toast and is a tablet idea that is manufactured by Asus.
As you can see the 12-inch touchscreen display has virtually no bezels surrounding it and has a resolution coming in at a massive 5120 x 3200 which is powered by a Qualcomm Snapdragon 1000 quad core processor clocked at 2.6GHZ.
This is paired with 4GB of RAM that is expandable to 6GB with the device running the Android 4.5 KitKat operating system, and camera wise we have a 13-megapixel rear facing shooter capable of 4K video capture, while around the front is a 3-megapixel unit.
Audio will please the ear as there are 5 powerful neodymium magnet speakers positioned on the device, and the tablet will also run Windows RT and the Chrome OS besides the vanilla Android experience.
We even have some pricing for the device that will not seem all that realistic given the specs but it will set you back only £200 for the 32GB version going up to £360 for 128GB. While a lot of this design may not be very realistic it is still nice to dream.
Would you like a Nexus 12?