iPhone 5S gold burnt to cruel death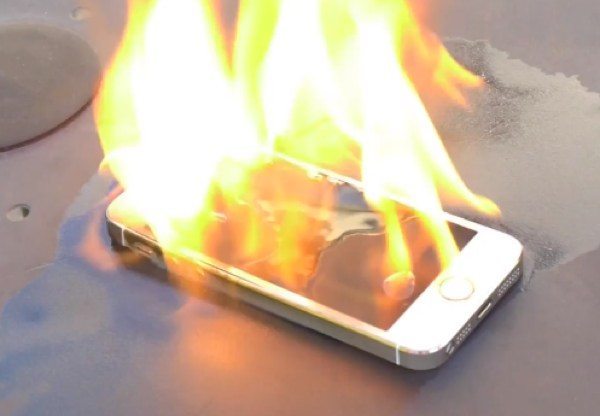 The iPhone 5S is an impressive phone that is flying off the shelves and has already been subjected to all sorts of tests to see how durable and resilient it is. However, we doubt that any device could withstand the 'testing' that recently took place where an iPhone 5S in gold was burnt to death.
We have a 4-minute YouTube video to share with you below this story, and it's a bit different from the usual run of the mill drop tests that we sometimes take a look at. This escapade shows an iPhone 5S being subjected to torch and hammer treatment, and it's a rare smartphone that could possibly survive that.
We're not entirely sure what the makers of the video are trying to prove, although it's said that they wondered if an iPhone 5S could film itself being burnt alive! The response to this (unsurprisingly) is an emphatic 'NO.'
Gasoline and a deodorant spray were mixed together in an attempt to create a blowtorch reaction into the iPhone 5S, and the phone's video set to record in slow motion. The handset is then set alight and then after it has been burning for a short time it's then unceremoniously doused in water.
The iPhone 5S is then dipped back into the water at which point it's said to be still working, but then the perpetrators of this rather bizarre test seem disappointed to say they were unable to retrieve the video footage.
After this disillusionment it's decided that the iPhone 5S should be allowed to rest in peace whereupon it's then set upon with a hammer, as some kind of punishment for not being able to tolerate being set alight.
We'd like to know what you think about the rather strange video that you can see below this story. Do you find this iPhone 5S assassination mindless or entertaining? Let us know with your comments.