Sony Xperia Z1s Mini in timely listings appearance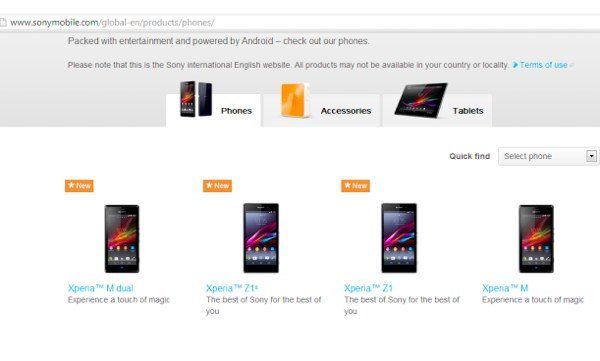 We've been hearing plenty of rumblings about a device called the Sony Xperia Z1s recently. The Xperia Z1s is said to be a mini version of the Xperia Z, and now all doubts about its existence have been dispelled after the Xperia Z1s Mini has made a timely listings appearance.
We're seeing a growing trend for mini versions of popular handsets such as the Samsung Galaxy S4 mini and HTC One mini, and now the Xperia Z mini is getting in on the act. What makes this more appealing than some smaller versions of flagship devices is that the specs have hardly been downgraded from those of the standard version.
It's thought that the Xperia Z1s launch could officially take place today, and we recently saw a leaked image of the device emerge. Now what appears to be the international variant of the Xperia Z1s has shown itself on the official Sony website.
It's appearance was all too brief though as it was very soon pulled, although the screenshot here shows the evidence. We very often see these kind of brief appearances and image leaks just before the official launch or release of a phone, so all the signs are promising.
Unconfirmed specs of the Sony Xperia Z1s include a Qualcomm Snapdragon 800 quad-core processor, 4.3-inch display with 1280 x 720 resolution (rather than Full HD on the Z1), a 20.7-megapixel rear camera and 2300 mAh battery.
Are you eagerly waiting to hear the official confirmation of the Sony Xperia Z1s release date, price and specs? Let us know with your comments.
Source: Xperia Blog