Google Now beam me up Scotty Easter egg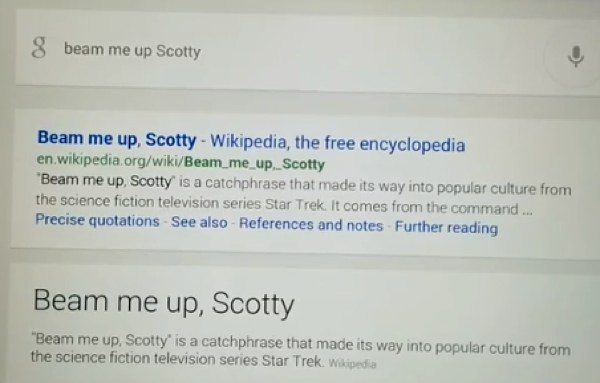 We do love coming across the Easter eggs that crop up from time to time in different Google Products. This time it's the turn of Google Now, which has been treated to a "beam me up Scotty" Easter egg.
Star Trek enthusiasts and geek trivia specialists will love this latest Google Easter egg that arises if you ask Google Now to beam you up. If you check out the YouTube video below you'll hear the answer that Google Now comes up with, which we rather enjoyed.
We're not entirely sure if Google Now was trying out a Scottish accent, but if that's the case then it's a pretty atrocious attempt. However, this almost makes the Easter Egg even more appealing and engaging.
This is a nice touch from Google as Google Now hasn't been known to add any personality in the way that Apple's Siri does. In an interesting aside for the geeks among us the codename for Google Now was Majel, the name of Star Trek creator Gene Roddenberry's wife, who was also the voice of the ship on Star Trek.
Once you've viewed the Google Now — Beam me up Scotty video below, let us know what you think of this Google Now Easter egg. Do you enjoy Google's Easter eggs? Would you like to see Google Now coming up with more user engagement such as this? We're always interested to hear what you have to say so do send us your comments.