Nexus 5 now available online at T-Mobile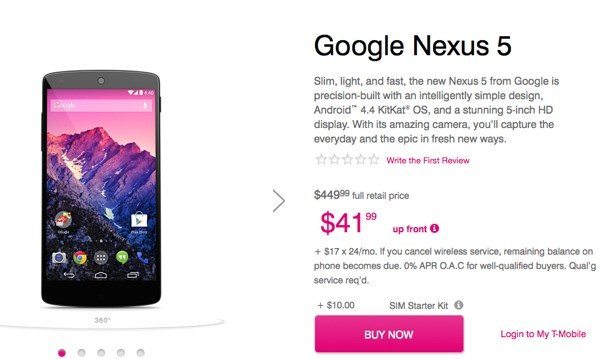 The Google Nexus 5 recently released and has been available via Google Play contract-free at a very competitive price, but some buyers might still favour purchasing it with a carrier subsidy. Now the phone has become available from T-Mobile online, although it won't reach T-Mobile stores until November 20.
Many people have found it difficult to get hold of the LG-made Nexus 5 from the Google Play Store, such has been the extremely high demand for this smartphone. On Google Play UK the black varieties of the 16GB and 32GB versions now have shipping times of between 3 to 4 weeks, while the white models are currently due for shipping from November 22.
In the US the 16GB black version was recently sold out, so some might appreciate a chance for an alternative way of getting hold of the Nexus 5. The cost of buying the Nexus 5 on T-Mobile will cost you more than through Google Play though, with the carrier asking $449.99 off-contract for the 16GB model, the same as Sprint is asking. The same model from Google Play is priced at $349.
However T-Mobile also offers the phone on-contract with a downpayment of $41 followed by 24 monthly payments of $17. Considering the difficulties of finding a Nexus 5 in stock, there might be plenty of customers heading to T-Mobile online right now.
It could well be the case that initial stocks may not last long though, so if you want to order one through T-Mobile it's best to get in quick. You can order at T-Mobile here. We'll remind you that the Nexus 5 won't be available at T-Mobile stores until November 20.
If you decide to order the Nexus 5 from T-Mobile online we'd be really interested to hear if you manage to get an immediate shipping time, or alternatively what the shipping time is? Are you willing to pay extra on T-Mobile to get the phone contract-free, or will you be buying with a contract?