Samsung Galaxy Note 3 free Google Play credit offer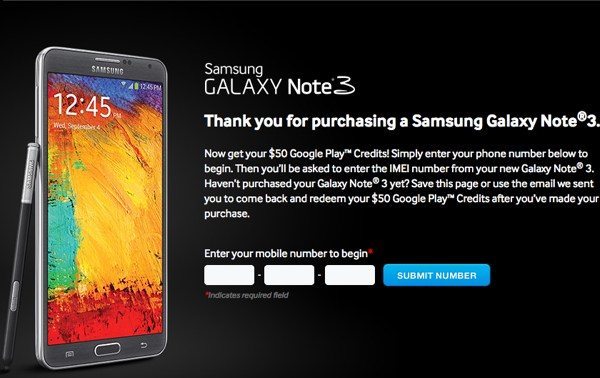 If you have recently purchased the Samsung Galaxy Note 3 smartphone or are planning to purchase one over the next month or so then we have some great news for US buyers. The manufacturer is running a new offer for the Samsung Galaxy Note 3 that will give you free Google Play credits.
The Galaxy Note 3 is in huge demand across various world regions, and recently those in the UK have been treated to a free Galaxy Gear or free Galaxy tablet offer when purchasing it. Now it's the turn of US buyers.
A new promotion from Samsung that runs until January 6 will give Galaxy Note 3 buyers free Google Play Store credit to the tune of $50. This applies to those who have already purchased the phone as well as new buyers of the Note 3.
To claim your $50 credit for Google Play head to this Samsung page for further details. It's a simple process of entering some details such as the IMEI and your phone number. After this you'll receive a confirmation email and then a code to redeem for your free Google Play content such as apps, movies and songs.
It's nice to see that US Samsung customers can now take advantage of this Google Play credit offer. Of course it's also another incentive to buy the Galaxy Note 3, as if you needed any more persuasion!
Do you already have the Samsung Galaxy Note 3 or are planning to buy one? Tell us what you think about this free Google Play credit promotion by sending us your comments.