Best Thanksgiving turkey recipes, apps for iPhone, iPad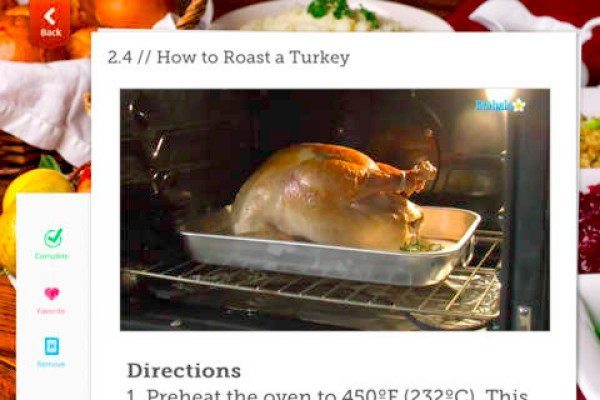 2013 Thanksgiving Day is just a week away now, and many of you may be celebrating the day with family and friends and the traditional Thanksgiving feast. With this in mind we've looked for some of the best Thanksgiving turkey recipe apps for iPhone and iPad, and these apps also contain plenty of other Thanksgiving dishes
The first app that we want to suggest is Thanksgiving Recipe Collections: Food and Drink Recipes by Gojee. Thanksgiving recipes have been gathered from the world's top food bloggers, and recipe photos are shown so that you know what the end result is supposed to look like! The recipes are categorized into different types of dishes, and courses and there are over 350 recipes in total. These recipes for Thanksgiving include turkey, stuffing, pies, mashed potatoes, Thanksgiving desserts and more. This is a free app and it's compatible with the iPhone, iPod touch and iPad running iOS 7.0 or later.
The next choice is titled Thanksgiving Turkey Recipes by App Cookies. This is also a free app with over 100 recipes to take your pick from. Holiday bird recipes include roast turkey, deep-fried turkey, grilled turkey and more, with easy instructions. Turkey recipe sections include For Family, For a Crowd, Lunch, Quick Recipes, Christmas turkey recipes and more. This app is compatible for iPhone, iPod touch and iPad running iOS 4.3 or later.
An excellent app is Thanksgiving Recipes HD and we rather like the app description that claims it will help you to "silence your mother-in-law by mastering classics like mashed potatoes." This includes dishes such as turducken (a chicken inside a duck inside a turkey) and also includes ideas for a vegan Thanksgiving meal. The app will help you to cook the perfect turkey, and options include cooking a whole turkey in only 45 minutes by deep-frying, how to smoke a turkey, and favorites such as Pumpkin Pie. Other helpful tips include how to carve the perfect turkey. This app is priced at $1.99 and is compatible with iPhone, iPod touch and iPad running iOS 4.3 or later.
Finally we have the Butterball Cookbook Plus — Recipes for Thanksgiving and Everyday Occasions. This app has just been updated and is free for a limited time. This will help you to create a wonderful Thanksgiving meal with over 250 recipes featuring photographs and simple instructions. As well as recipes this app includes shopping guides, how-to videos, and tips for preparation. Features include voice commands, the ability to save your favorite recipes to a Recipe Box, printing recipes via AirPrint (with compatible devices), and much more. The app is free but there are also recipe pack in-app purchases available. It's compatible with the iPhone, iPod touch and iPad running iOS 6.0 or later.
With the help of these apps from the App Store you'll soon be confidently rustling up that special Thanksgiving dinner and wowing your loved ones with your cooking prowess. You may also enjoy our article on Thanksgiving countdown apps here.
Send us your comments and let us know what you think of any of these Thanksgiving Turkey recipe apps if you try them out. For now, all that's left to say is Happy Thanksgiving!