iPad mini 2 Retina vs iPad Air, choice depends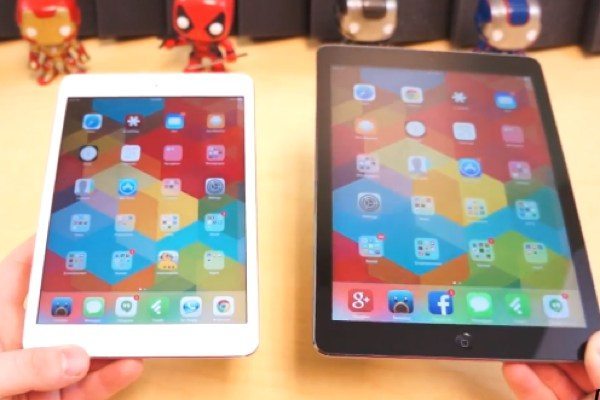 The Apple iPad Air and iPad mini with Retina display are both now available and will no doubt be appearing on plenty of holiday wish lists. Many people are certain they want one of the new iPads but not so sure about which option is best for them. Today we have an iPad mini 2 Retina vs. iPad Air video to show that should make this decision clearer.
Both the iPad Air and iPad mini 2 have received excellent reviews, and we've already given an upgrade comparison in an earlier post. However, sometimes a video comparison can be really useful in showing the devices close-up and detailing what they have to offer.
The 7-minute YouTube video below this story comes from Pocketnow and offers some excellent insight. The start of the video shows how the iPad mini 2 has virtually the same design as the original Pad mini, and how the iPad Air has now followed that design so that they look more uniform. In this part of the video you'll get a very good look at how they compare in this respect, with dimensions and weights given.
Details of key specs are then given, with many being the same, before the displays are then discussed. This will be one of the major aspects that you should take into account, with the display on the iPad Air being noted as superior to that of the iPad mini 2 with Retina.
The video also goes into detail about the processor and performances with some benchmark results given and then information on the battery life of each device. Finally the camera set-ups are described before the conclusion, which also notes the price of each device.
Ultimately these are both impressive tablets, but one is given a slight nod over the other. We won't give that away as you can check out the video below, but really your choice will be made by the pricing and whether you want the portability of the iPad mini 2, or perhaps would prefer the display experience that the iPad Air offers.
When you've taken a look at the video we'd like to hear what you think about a choice between these two Apple tablets. Have you made up your mind whether to purchase the iPad mini 2 Retina or the iPad Air? Let us know with your comments.