iPad Air or Retina Mini upgrade decision time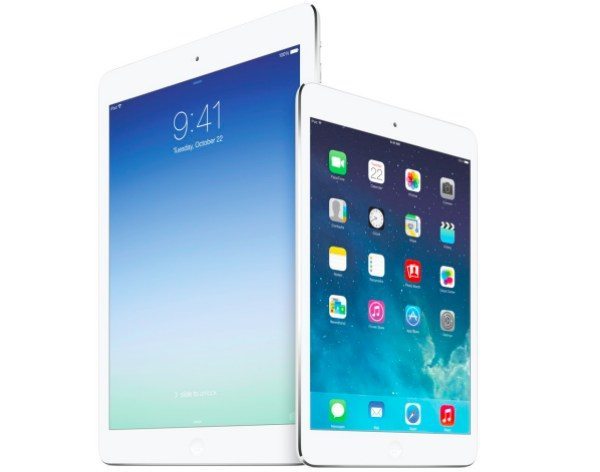 The new iPad Air release takes place tomorrow, and there are likely to be plenty of people visiting Apple Stores or trying to order it online. The iPad mini 2, aka iPad mini with Retina display releases at some point in November, and the same scenario is likely. Today we want to discuss iPad Air or Retina Mini upgrade decision time.
We've been keeping readers informed about all of the new iPad details since they were officially unveiled at the recent Apple event. Now many people are considering whether it's worthwhile upgrading from their current iPad or iPad mini for the new iPad Air or iPad mini 2.
It's also worth considering that some people will be trying to make up their minds between the iPad Air or iPad mini 2. Whereas there was a big distinction in size and weight between the iPad 4 and original iPad mini, that difference is not now so discernable as the iPad Air is much lighter than the iPad 4 while the iPad Mini 2 is slightly heavier than its predecessor.
The iPad Air is 20% thinner than the iPad 4 and weighs only 1 pound instead of 1.4 pounds so that will be something you might want to take into account when deciding whether or not to upgrade. Meanwhile the original iPad mini was 7.2mm thick and weighed 308g for the Wi-Fi version or 312g for the Wi-Fi + Cellular version. However the iPad mini 2 with Retina is 7.5mm thick and weighs 331g for Wi-Fi or 341g for the Wi-Fi + Cellular version.
It's pretty odd to consider then that the new full-sized iPad is thinner and weighs considerably less than the iPad 4, whereas the new iPad mini is heavier and thicker than its predecessor. We've already given a specs comparison for the iPad 4 and iPad Air and many of the specs are pretty similar. The major difference is that the iPad Air and the iPad mini 2 both feature the new 64-bit A7 processor that first arrived in the iPhone 5S, as well as the M7 motion co-processor.
This is a notable difference, as shown in recent benchmark and GPU performance testing on the iPad Air. Apart from the size and weight differences the new processor set-up is the main factor to take into consideration when deciding whether to upgrade or not.
Other aspects worth taking into account about the iPad Air and mini 2 are that there's an extra microphone on the back, which should result in better sound quality for video capture. Also the number of 4G LTE frequency bands have been expanded.
Neither the iPad Air or iPad mini 2 feature a fingerprint sensor though, and this was widely rumored after it appeared on the recently released iPhone 5S. However, we're not sure this will be as big a disappointment to consumers as many people are currently suggesting.
Of course the major difference between the original iPad mini and iPad mini 2 is that all-important Retina display. The 7.9-inch display on the first iPad mini has resolution of 1024 x 768 and 163 ppi. On the other hand the iPad mini 2 Retina display has resolution of 2048 x 1536 and 326 ppi, a noticeable difference. This alone could persuade many people to upgrade from the original iPad mini to the mini 2.
If you want to check out full iPad Air prices for the UK and US then please head to this article. If you are thinking of upgrading to the iPad mini 2 then pricing for the Wi-Fi model is $399 /£319, $499 /£399, $599 /£479, or $699 /£559 for 16, 32, 64 or 128GB of internal storage respectively. For the Wi-Fi + Cellular model the pricing is $529 /£419, $629 /£499, $729 /£579 or $829 /£659 respectively.
As iPad Air stock is arriving at Apple retail stores and other suppliers such as Walmart it seems there will be plentiful supplies both in the US and internationally. If you want to order online then you can do so from 12:01 am Pacific Time in the US, (times vary elsewhere).
There has been no confirmation of the iPad mini 2 release date although there have been murmurings of November 21, which of course would be just in time for Thanksgiving and Black Friday. There have been reports though, that there will be very limited supplies of the iPad mini with Retina display.
We'd like to know if you'll be upgrading from your iPad 4 to the new iPad Air, or from the original iPad mini to the iPad mini 2 with Retina display? What is the main factor for you in deciding to make the upgrade? Maybe you can't see enough in the new models to bother upgrading? Let us have your comments on this.