iPad Air price points for US and UK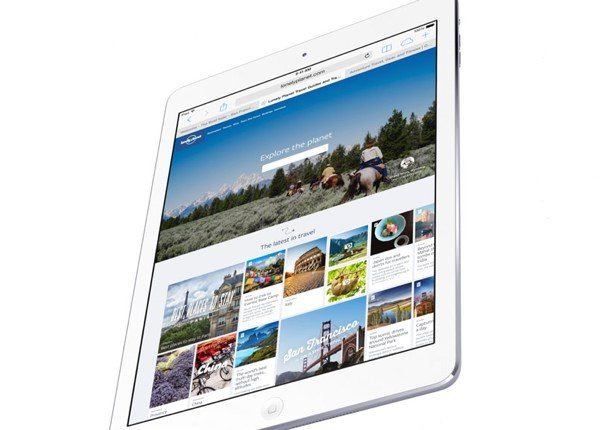 The iPad Air (iPad 5) was recently introduced by Apple and the new lighter and slimmer form factor is wowing plenty of people ahead of its arrival. The iPad Air release date is November 1 and Apple will also be taking online orders from that date. Ahead we have all of the official iPad Air price points for the US and UK.
The iPad Air has a 64-bit A7 processor as appeared for the new iPhone 5S and also has the M7 motion co-processor, so there is a big performance improvement. If you have the iPad 4 and want to know if it's worth upgrading to the iPad Air you may want to check out our comparison.
The starting price for the iPad Air remains the same as for the iPad 4 (iPad with Retina display) when it first released, and buyers have a choice of 16, 32, 64 or 128GB of internal storage. There are two versions available, Wi-Fi or Wi-Fi + Cellular and we have all the US and UK pricing coming right up.
Starting with the iPad Air Wi-Fi version the 16GB model is $499 /£399, 32GB is $599 /£479, 64GB is $699 /£559 or 128GB is $799 /£639.
For the iPad Air Wi-Fi + Cellular option the 16GB is priced at $629 /£499, 32GB is $729 /£579, 64GB is $829 /£659 and finally the 128GB model is $929 /£739.
These are all official prices via Apple although you may find the odd offer elsewhere. For example yesterday we heard that Walmart in the US is to offer a saving of $20 on the 16GB Wi-Fi version.
Price reductions on new Apple devices are usually pretty thin on the ground and you can't usually save significant amounts of money. Nevertheless it's always worth taking a look around.
We'd like to know if you'll be heading to a store on November 1 in the hopes or picking up an iPad Air? Maybe you prefer to order online through Apple and hope that demand meets supply? What are your thoughts on the pricing? Let us know with your comments.