iPad mini 2 vs Nexus 7 2013 benchmarks review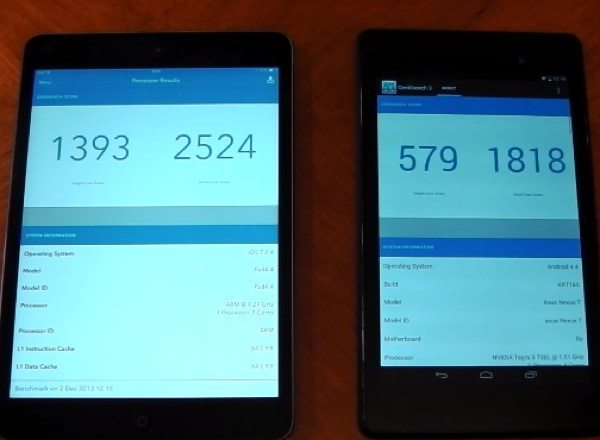 Two of the biggest tablet releases this year are the Apple iPad mini with Retina Display aka the iPad mini 2 and the Google Nexus 7 2013 aka Nexus 7 2. These two tablets are likely to be on plenty of Christmas wish lists, and today we want to show you an iPad mini 2 vs. Nexus 7 2013 video review that compares benchmarks.
The iPad mini 2 is an iOS device while the Nexus 7 2 is an Android tablet, so some people will have made a choice between them on that factor alone. We've written plenty of articles now on both devices including showing a specs comparison, but it's always interesting to see how devices fare in benchmark testing as well.
The iPad mini 2 has a 1.3GHz Apple A7 dual-core processor with PowerVR G6430 GPU. On the other hand the Nexus 7 2 rocks a 1.5GHz Snapdragon S4 Pro quad-core processor with Adreno 320 graphics.
The 3-minute YouTube video below this story shows these two tablets side-by-side and begins with Geekbench testing, which is predominantly a CPU benchmark. The iPad mini 2 wins on both the single-core and multi-core performance.
The next test concerns GPU with 3DMark and again sees the iPad mini 2 beat the Nexus 7 2. The final test is with GLBenchmark, but rather than giving away all the results we'll let you check it out for yourselves by watching the video.
Obviously these benchmark results don't reflect real-world performance but nevertheless it's interesting to see how the iPad mini 2 and Nexus 7 2 compare in this respect. We're interested to hear what you think of these results so feel free to send us your comments.
Are you surprised at any of the benchmark results shown on the video below for the iPad mini 2 vs. Nexus 7 2013? Would the results influence your decision about which tablet to buy or not?