LG G2 price deals are appealing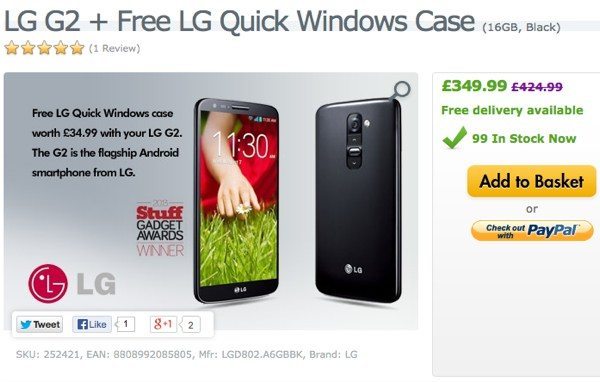 The LG G2 is an impressive Android smartphone and has been much admired since its release. If you've waited to buy this device then there are some good LG G2 price deals around right now and we have details ahead.
Before the UK LG G2 release online retailer Clove had the phone available to pre-order at an unlocked price of £468 including VAT. Clove has now reduced the LG G2 to £408 and that includes a free LG QuickWindow case but that price can still be bettered elsewhere.
The SIM-free LG G2 is now available on Amazon for £405, down from £489. However, this offer doesn't include a free case. An even better deal is available at Expansys where the SIM-free price at the time of writing has been reduced from £424.99 down to only £349.99.
The £349.99 price offer from Expansys also includes a free QuickWindow case that is usually sold at £34.99. This sub-£350 price tag for the LG G2 should be very appealing for those who were thinking about this top-notch handset with an impressive array of specs.
The LG G2 is powered by 2.26GHz quad-core processor and has a 5.2-inch Full HD display, with 2GB of RAM and 16GB of internal storage. It also has a 13-megapixel rear camera with optical image stabilization, a 2.1-megapixel front-facing camera and a 3000 mAh battery.
It runs the Android 4.2.2 Jelly Bean operating system and the LG G2 Android 4.4 KitKat update is expected soon. Have you been thinking of buying the LG G2 and if so will you be taking advantage of the Expansys price deal for this smartphone? Let us know with your comments.