Nova Launcher Android update with 4.4 KitKat loving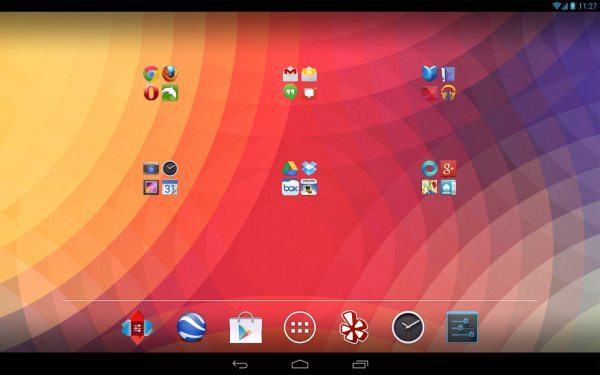 The Nova Launcher Android app has just had a new update and is now at v2.3, this now comes with many new features that brings a little Android 4.4 KitKat loving.
Android users around the world will already say that the Nova Launcher is one of the best launchers out there via the Google Play Store, in a way the new update does feel like you are running parts of the new Android 4.4 KitKat operating system.
This is not a massive update at 3.4MB; we always recommend you back-up your file before installing new updates. This update is only available to those running Android 4.0 or higher.
In the new Nova Launcher Android app update you will get new features such as the Kitkat scroll indicator (Desktop — Scroll Indicator), you will get use of the small auto hiding tabs in app drawer and new KitKat folders for Light and Folder Background as well as Light Circle.
Other features include: New KitKat fonts, Kitkat app drawer icon by long-pressing the drawer icon and selecting Edit then tapping the icon, Google KitKat icon theme, Transparent system bars on KitKat, Configurable drawer Menu action, Drawer tab indicator scrolls during tab change, Scroll indicators animate properly for infinite scroll, Drawer scroll indicator is relative to current tab, the update also includes new fixes and optimizations as well as Backup/Restore from external sdcard and Improved Backup management which means you can send backups via Gmail, Pushbullet and more.
If you have not yet installed Nova Launcher and want some KitKat loving please visit the Google Play Store — Have you installed the new Nova Launcher update yet?