Santa app choice to text, email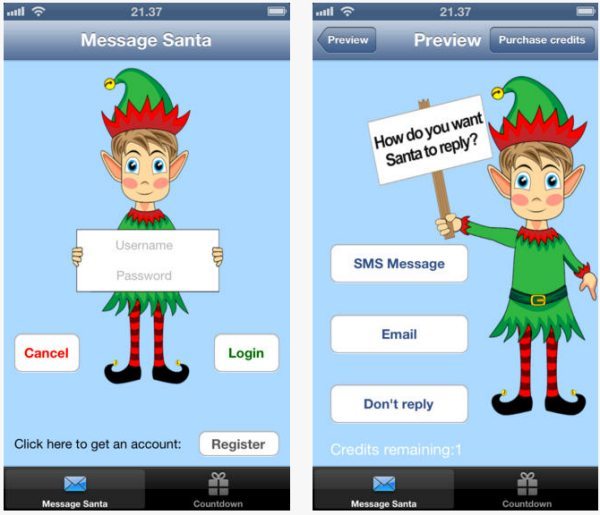 Christmas is so close now and all the little kiddies will want to send him a letter letting Santa Claus know how good they have been, and also sending in their Christmas present wish list. Sending a letter now might not get there in time as it is a very busy time of year, so how about sending him a text or email direct?
Below we have two fantastic Santa app choices for sending text messages and emails, the first is for Android users and the second is for iOS users, hope you like and Merry Christmas little ones.
The first app is for iOS users and is available via the App Store and is 69p this one is the 'Text Santa' app and is a great because it allows users to let Santa Claus see your Christmas wishlist, as well as receiving a response addressed from Santa.
Text Santa app is great because not only can you or children send text messages, you will receive a reply text message (SMS) to your mobile/cell phone, you can also get a reply sent to your email, so now there is email Santa reply as well.
Text Santa app main features include a countdown to Christmas, submit a wishlist to Santa, send a persona message, personal replies from Santa via text, email or opt for a no reply and much more.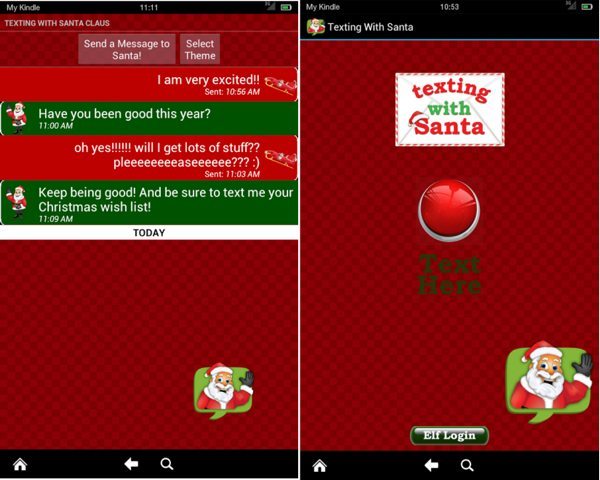 Next up for Android users is 'Texting With Santa', this app is £1.19 and will entertain the little kids for ages. They will be over the moon when they receive their text message from Santa Claus; this is the official North Pole app for texting with Santa with the ability to follow the full journey.
Send text messages to your kids, even on Christmas Eve Santa will check that the children are in bed, Santa will check in with you to let you know what he is doing, know how the reindeer are, Santa will not stop unless you are a sleep and he will remind the kiddies.
With parents help kids can text Santa to ask questions, Santa will remind them to be good little boys and girls through out the new year, kids can reply to Santa Claus to let him know they are ready, the parent will be Santa's little elves so that they can monitor and create all the texts, parent should install this app via the Google Play Store right now.
If you love Santa, why not get a Santa selfie with a new iPhone app here.