Elf Yourself vs Bitstrips app, most enjoyable
Every now and then an app comes along that seems to capture people's imaginations. Not long ago it was Bitstrips that was all the rage and now a lot of attention has turned to Elf Yourself. Today we're looking at the Elf Yourself vs. Bitstrips apps and which is most enjoyable.
Bitstrips is available for both the Android and iOS platforms, and the Android version of Elf Yourself has recently arrived to accompany the existing iOS app. Both are massively popular, to the extent that there can't be many people now who haven't heard of them.
Both of these enjoyable apps bring a touch of humor to everyday life and many people can't wait to share the results with family and friends. These apps from the App Store and Google Play can often be a good source of amusement in the workplace too.
They are both free apps and Bitstrips enables users to create comic strips featuring avatars of themselves and their friends. There are over 1000 templates to use with various hairstyles, mouths, eyes and noses, and text can be added before sharing your creations.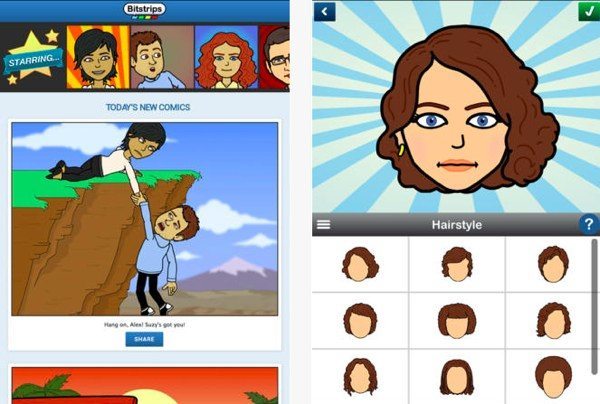 Elf Yourself is particularly appropriate right now as it has a Christmas theme with dancing elves and festive music. Users of ElfYourself can make fun videos featuring themselves and friends for the holidays, by using photos from the camera rolls on their devices or from Facebook. It's a free app, although there are in-app purchases for further dance options.
The Bitstrips iOS app is available from iTunes here. It's compatible with iPhone, iPod touch and iPad running iOS 4.3 or later. It has just been updated to version 1.2.10 with performance improvements and bug fixes. Bitstrips for Android is available from Google Play and is compatible with devices running Android 2.2 or later. A recent update to version 1.2.13 arrived bringing more features and improvements.
Elf Yourself by OfficeMax for iOS is on iTunes. It's compatible with iPhone, iPod touch and iPad running iOS 6.0 or later and recently updated to version 2.1 bringing improvements, push notifications and bug fixes. Elf Yourself for Android is from Google Play and is compatible with devices running Android 4.1 or later. It was updated a few days ago to version 1.1.3 bringing new dances to download and purchase.
It remains to be seen which will be the most popular in the long-term. Some people have already got over the Bitstrips craze while for others it's still going strong, but it could be the more enduring of these apps considering that Elf Yourself has a holiday theme.
We'd really like to hear from readers about Elf Yourself vs. Bitstrips. Are you a fan of either of these apps and can tell us why you enjoy it so much? Maybe you've used both apps and can let us know which you find the most enjoyable of the two and why? Is your choice Elf Yourself or Bitstrips? Let us know with your comments.