Samsung Galaxy Tab 3 8.0 GamePad bundle as Game Edition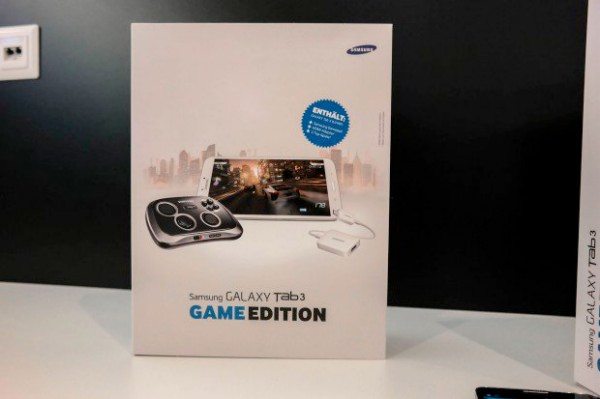 Recently we saw the official launch of the Samsung GamePad game controller that took place in Europe. Now Samsung has formally introduced a Galaxy Tab 3 8.0 Game Edition GamePad bundle to be released.
The Samsung Galaxy Tab 3 8.0 tablet is a very popular device so many people will be pleased to hear of this Game Edition on the way. This will include the Galaxy Tab 3 8.0 Wi-Fi tablet, GamePad controller and HDMI adapter.
As the Samsung GamePad is designed to use with smartphones, the HDMI adapter is included as part of the bundle. This will enable users to connect a TV to the Galaxy Tab 3, connect the controller via Bluetooth and be ready to play.
The price of the Game Edition GamePad bundle hasn't yet been given by Samsung yet but we do know that the GamePad controller is priced separately at €79.90. The GamePad is compatible with devices running Android 4.1 or later and is optimized for Samsung devices on Android 4.3.
The GamePad features a dedicated Play button that will activate the Samsung Mobile Console app on specific Galaxy handsets. We'll bring you more news on pricing and availability of the Game Edition bundle as soon as we hear it.
Will you be keeping an eye out for more news on the Samsung Galaxy Tab 3 8.0 Game Edition bundle that includes the GamePad controller? How much would you be prepared to pay for this package? Let us know with your comments.
Source: All About Samsung (Google Translated