LG G Flex spots for AT&T, T-Mobile USA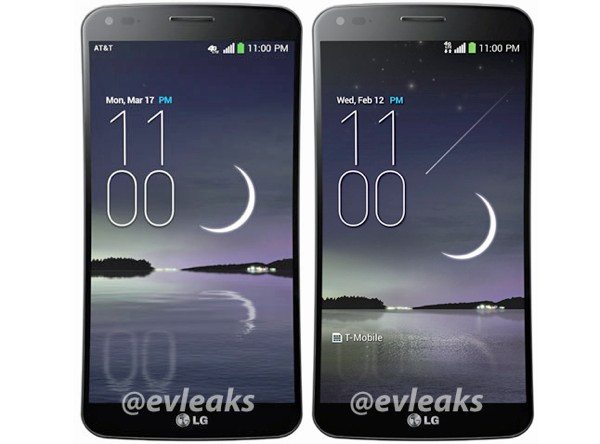 The LG G Flex smartphone has generated a huge amount of interest with one of its key attractions being its curved flexible design. If you're one of the many people in the US who have been hoping the LG G Flex release there will arrive soon there's promising news today, as we have learned of LG G Flex spots for AT&T and T-Mobile.
The G Flex released in November and was initially available in South Korea although its release is slowly rolling out to other regions worldwide. This phone is not only unique in its styling but also has an impressive array of specs so we can understand why plenty of buyers have been holding out to get their hands on this device.
Previously it had been rumored that the G Flex would appear on Sprint, AT&T and T-Mobile once it becomes available in the US, and a render of the Sprint variety of the phone has already been leaked. Now prolific leaker Evleaks has tweeted leaked images of the T-Mobile and AT&T versions of the LG G Flex.
The AT&T LG G Flex is said to have model number D950 while the T-Mobile version has model number D959. There's still no news on exactly when the phone will release stateside. However, leaked renders are often a sign that availability isn't too far away.
While you're waiting you might want to check out two of our recent posts for more information on this phone. The first is a comparison of the LG G Flex with the HTC One Max, and the second takes a look at the LG G Flex vs. the Samsung Galaxy Note 3.
As a quick refresher we'll tell you that the LG G Flex has a 6-inch Curved P-OLED display with resolution of 1280 x 720 and 245 ppi, with one of its only drawbacks being that it doesn't have a Full HD display. It's powered by a 2.26GHz Snapdragon 800 quad-core processor, has 2GB of RAM, and 32GB of internal storage (non-expandable).
Are you waiting for the LG G Flex to arrive for the US? Let us know with your comments.
Source: @evleaks