Happy New Year 2014, send 2015 messages via apps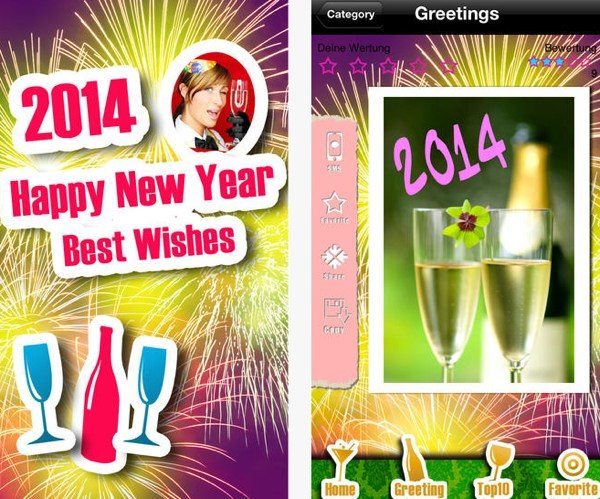 Phones Review wishes to say Happy New Year 2014 to all our readers. Many smartphone owners probably said 'Happy New Year' and that was it, but how about a few apps that will automatically find you the perfect happy New Year messages.
You can now be prepared at the end of this year to send your new 2015 Happy New Year 2015 messages thanks to these brilliant apps. It might seem a long time away at the moment, but why not take a look now at some of the great apps available so that you're prepared next time around. Of course, it's still not too late to send them for this New Year either.
The first app for your consideration is called Happy New Year 2014 Messages, which will of course be updated by next year. This is a highly rated Android app for sending New Year messages and New Year wishes. It's a free app and is compatible for devices running Android 1.6 or later, and user reviews are excellent.
The next choice is New Year SMS 2014, another Android app available from Google Play. This fun app enables users to send New year congratulations and Christmas messages to those close to you and acquaintances. It contains different phrases and you can share by Twitter, Facebook or Whatsapp or send by SMS. It's a free app compatible with devices running Android 2.2 or later.
The next selection is for iOS devices and it's called Happy New Year — Best Wishes for 2014. This contains New Year quotes and sayings as well as New Year blessings and plenty of inspiring thoughts. The app is priced at £0.99 from the App Store and it's compatible with iPhone, iPod touch and iPad running iOS 4.3 or later. The app is rated as a 12+ so you might want to bear that in mind.
Our final suggestion is another iOS app and it's Happy New Year 2014 — Greetings, Quotes and Wishes. This has plenty of heartwarming and funny greetings to send to family and friends and also enables you to wish a Happy New Year in different languages. This is a free app (contains in-app purchases) and also rated as a 12+, and it's compatible with iPhone, iPod touch and iPad running iOS 4.3 or later.
Hopefully at least one of these apps will be just what you're looking for, and they offer something a little more special than just texting someone the usual 'Happy New Year' message. If you find any of them particularly good, why not let us know by sending a comment.