Samsung Galaxy Note Pro 12.2 features advanced specs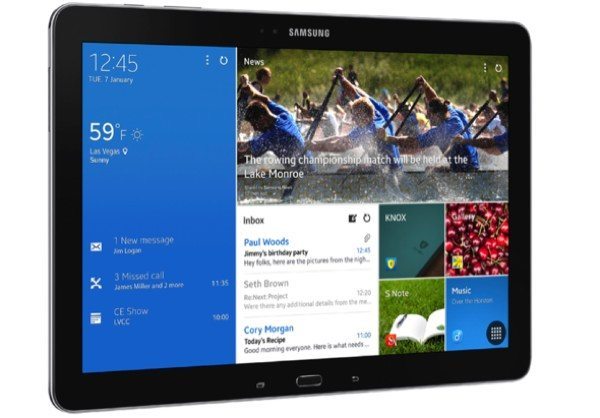 We've been seeing plenty of leaks about upcoming Samsung tablets and the Samsung Galaxy Note Pro 12.2 has now been formally announced and features advanced specs. This is a high-end tablet to impress and is likely to be another success for the giant tech company.
Obviously this is a larger tablet than standard and it also comes with use of the Samsung S Pen stylus like other Galaxy Note devices. The 3G version packs a 1.9GHz Exynos 5 Octa processor while the LTE variety is powered by a 2.3GHz Qualcomm Snapdragon 800 quad-core CPU.
The 12.2-inch Super Clear LCD display has a 16:10 aspect and resolution of 2560 x 1600 and 247 ppi. The Galaxy Note PRO 12.2 also has 3GB of RAM, 32 or 64GB of internal storage (expandable via microSD), an 8-megapixel rear camera, 2-megapixel front-facing camera and very decently sized 9500 mAh battery.
Design-wise plenty of prospective buyers will be pleased to the see the stylish faux leather reverse that features on the Galaxy Note 3. Dimensions are 295.6mm x 204mm x 7.95mm but the weight is pretty hefty at around 750g.
As was leaked previously the Samsung Galaxy Note Pro 12.2 will release running Android 4.4 KitKat and will also feature a new tablet-friendly user interface called Magazine UX. The tablet will also come with pre-loaded apps to the value of around $700 including Bloomberg Businessweek+, Cisco WebEx Meetings, ropbox, Evernote, LinkedIn, NT Times, Sketchbook Pro and much more.
The price of the Samsung Galaxy Note Pro 12.2 was not announced at CES 2014 but we'll bring you more on that when we hear it. The tablet is expected to release this quarter and color options are black or white. Are you pleased to see the introduction of the Galaxy Note Pro 12.2? How much would you be prepared to pay for this top-end tablet? Let us know with your comments.
Source: Phone Arena